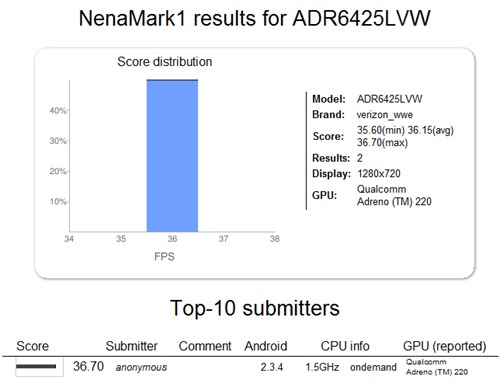 First time we heard the name HTC Vigor was a random story about its camera taking photos but nothing suggested Android was on board but some new benchmarks paint a slightly different picture if they are to be believed. A recent leak of a NenaMark benchmark shows some jaw dropping specs to say the least. This is an HTC device with what the results are claiming to be a 1.5 Ghz dual-core Snapdragon CPU, as well as a 1280x720p HD display running on Android 2.3.4 and the Verizon Wireless network.
Those specs with Verizon 4G LTE would be a device I think everyone would want. The HTC Vigor sounds like a beast but is it a phone, or a 7″ tablet. With a resolution like that we may be seeing signs of one of the first Ice Cream Sandwich phones too but this is all just speculation. Android 3.2 Honeycomb brought support for 7″ tablets and the Snapdragon platform to tablets so that is also why a 7″ 3.2 tablet is suggested.
Although we have seen benchmarks like this in the past, ones that are easily mistaken or faked seeing these specs has to get you a little excited for the future right. For now we will hope and pray something like this hits the Verizon networks soon but in the mean time we'll have to take this with a grain of salt. Now if pictures leak soon that will be another story so we will keep our eyes peeled.
[via Android Police]