Some new leaked information from some anonymous tipsters is suggesting that Sony is prepping a few nice handsets to be released soon. The main leaked device is codenamed "Nozomi" and should be available sometime in November. The details and specs are the important part as this leak suggests Sony Ericsson will be getting a pretty nice handset. The model number listed was SO-02D and the specs leaked are after the break.
The leaked screenshot shows it running Android with a pretty UI overlay. The device should feature a 1.4GHz single-core Snapdragon S2 processor (MSM8655T) with Adreno 205 GPU and 4.3-inch display with 1280 × 720 pixel resolution. We have started seeing this 720p HD resolution more and more but nothing actually official from any of the leaks has been seen. The Nozomi leak also mentions a micro-SIM like the iPhone 4 currently uses.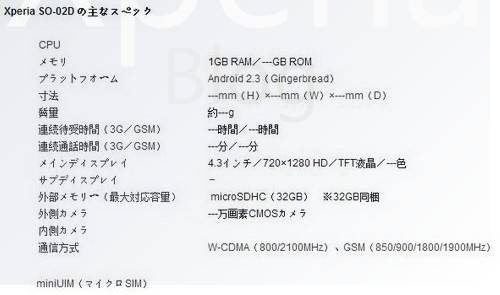 A few more pictured were quickly leaked over at the xperiablog but for now that is about all the details we have. From the picture above you can clearly make out the model number, screen resolution, and Android 2.3 Gingerbread as well as a few other things but the rest of the details are missing. Hopefully some actual device pictures are leaked soon and we will find out more on whether this will be released globally or just in Japan. We will be digging for more details shortly.
[via se-nse blog]