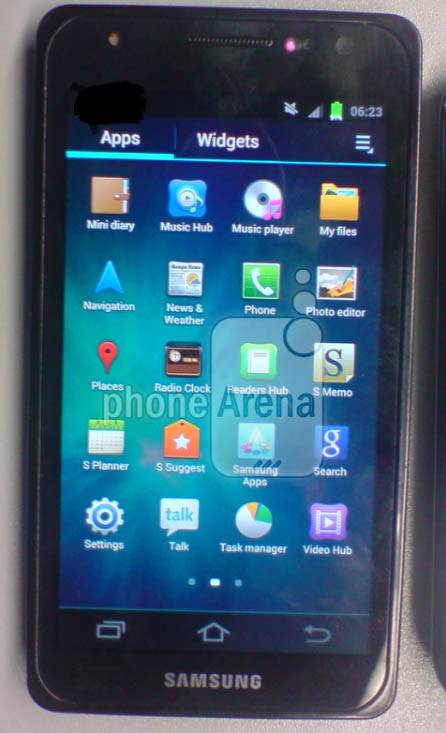 Another impressive looking Samsung Galaxy smartphone is in the news today. Previously suspected as being the Galaxy S III based on the model number being the GT-I9300, but some new details along with leaked info back in February has us thinking something else. Most likely this device will not be the highly anticipated Galaxy S III and according to Samsung is a mid-range phone.
Based on sources from GSMarena the GT-I9300 was actually listed in Samsung's order system as the Samsung Galaxy M. If you remember Samsung's naming change last year, the Galaxy M stands for mid-tier. The specs of this device are nothing short of impressive so if they think this is mid-tier, I can't wait to see the Galaxy S III.
The GT-I9300 comes with a 1.4 GHz dual-core Samsung Exynos processor, 1GB of RAM, a 4-inch 720p HD AMOLED display, and Android 4.0 Ice Cream Sandwich. Previous leaks suggested the GT-I9300 would come with a 1026 x 600 screen resolution so we are still unsure on the actual resolution of this device. Other than the 4-inch screen size all the rest of those specs are on par with, or better than their flagship Galaxy S II that is currently available. According to GSMarena the GT-I9300 will be available in early May and will be shipping with Android 4.0 ICS. Samsung looks to be getting rid of hardware and capacitive buttons with this phone as everything is on-screen. Hopefully the same holds true for the Galaxy S III.
With this phone coming in May does that mean the Galaxy S III will be here before or after? I can't imagine them releasing this first, but at the same time neither would surprise me. No matter what happens I can't wait to see what the Galaxy S III comes equipped with since they are calling this impressive phone mid-tier at best.