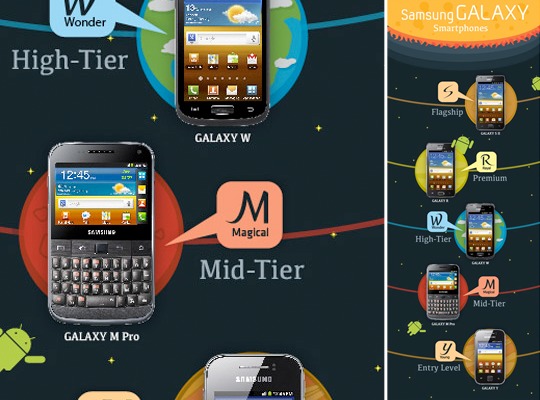 It appears that the Samsung "Galaxy" line of Android smartphones has just received a whole new set of names, all the way from the top to the bottom. Right up at the top is a name we're all very familiar with, the Galaxy S, this being the group's Flagship device name. Next there's R for Royal, this device being Samsung's "Premium" device. W for Wonder comes next as a High-Tier device. After W there's M for Magical, this device being the first in this new line to have a full QWERTY keyboard, four Android menu buttons and a joystick – very familiar in the smartphone world but generally new for Samsung. Finally there's Y for Young, this being the Entry-Level Galaxy device.
This new naming convention comes with specs for all of the new devices, these devices being live in our device.ac archives early today. We've heard of a couple of these devices before, but today marks the first day that Samsung is officially letting us know that they all really do exist and are all related to one another. Each of them appears also to be rolling out with a newer version of Samsung's TouchWiz interface – as indicated here by the wallpaper, of all things, which we only started seeing once the Samsung Galaxy S II and Galaxy Tab 10.1 started showing off their versions of TouchWiz.
This will also be a major part of Samsung's IFA 2011 lineup in Berlin. Certainly we're expecting something in addition to this set of Galaxy devices that are soft of neat yet have little int he way of real NEW features to show, but you never know. For more information on what else we might see at IFA 2011, check out our [Unpacked portal] Samsung may yet have something "Big" up their sleeve.
Also click on the thumbnail below to see the original Galaxy map released today.