Lets talk about the raw, unbridled power inside a phone from Samsung. This update comes in the form of Update KE7. I'm speaking of course of the Galaxy S II, a device we've got on hand for massive testing of the benchmark variety. What you're about to see are a few tests done on the Samsung Galaxy S II in its completely NOT overclocked state. You'll see both Quadrant Advanced and Smartbench 2011 hitting numbers over 4000. You'll see comparisons with older tests of overclocked and non-overclocked results on this device as well as on a couple other devices. Welcome back to the Thunderdome!
Take a peek here at the improvement in CPU specifically – the previous benchmark was done by us as well back in the thread with the three-way war between the Galaxy S II, Qualcomm MDP, and G2x. You'll see the overall result improve from 3707 to 4019 and the CPU improve from 8485 to 9342. Again note that this is standard build.
Next let's have a look at a comparison between the DROID X2 and the Galaxy S II via a benchmarking system by the name of AnTutu, paying attention to the differences here in memory read and write. IO on Droid X2 is only 8.5MB/s which is around a class 8. Galaxy S II is SSD grade with nearly 450MB/s read!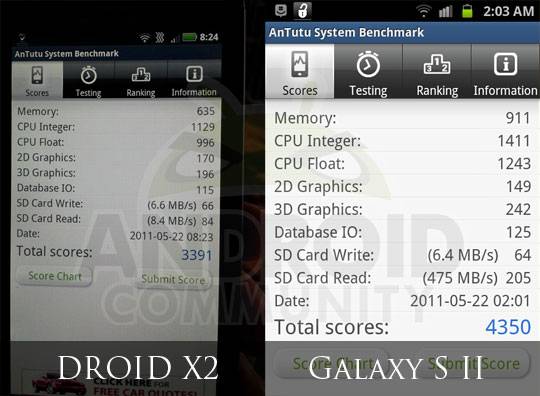 Again let's look at AnTutu in a stack, this time noting how it blasts past everything else on the list: LG Optimus 2X, Motorola XOOM, and the rest.