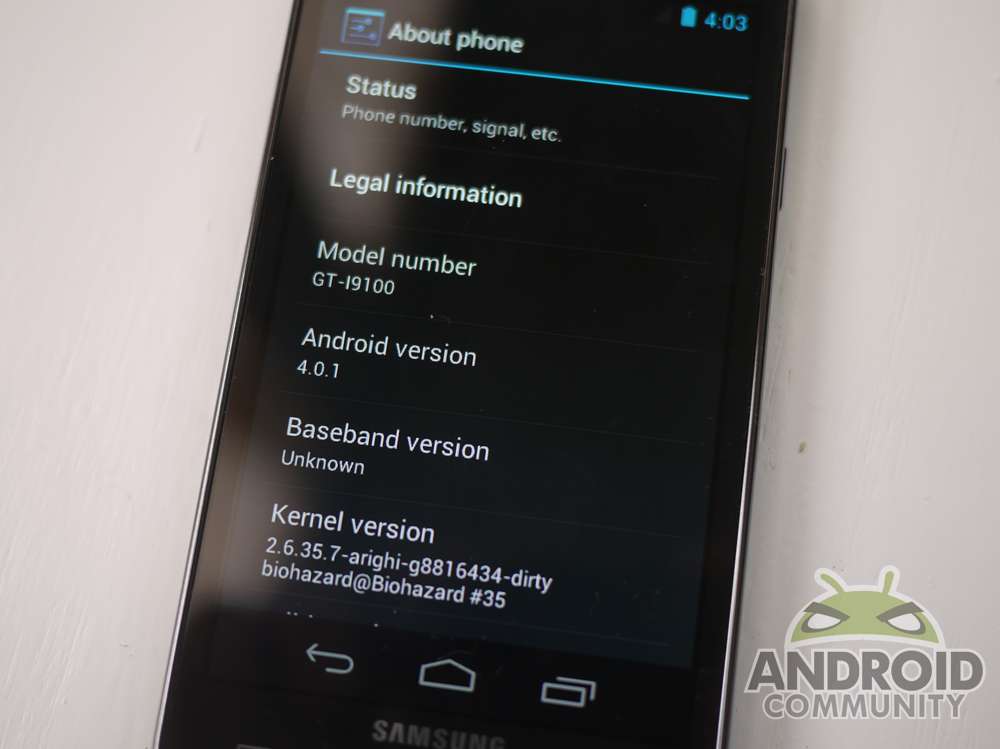 Now that Android 4.0 Ice Cream Sandwich is out in the wild and the source is available to all we are starting to see a few ICS ROM's appearing for select handsets. This is not a port from the SDK but a ROM built and modified right from the source code. What I have for you today is the highly popular Samsung Galaxy S II running the latest and greatest 4.0 ICS from Google. Remember this is very much an alpha build and not remotely close to being finished — but it's still fun to use and enjoy as well as show all of you.
Being very much an alpha build many things currently aren't working, especially those needing a data or internet connection. We have no WiFi, Bluetooth, NFC and the camera has issues. Obviously this will all get worked out and one day soon become a completely smooth and stable ROM for daily use. From what we are seeing so quickly, this will indeed be one blazing fast ROM as it already is and it's no where near being complete.
Most of what you're about to see in our video has been covered in-depth already in our ICS 4.0 hands-on, and our Galaxy Nexus hands-on but I'm sure many SGSII users will thoroughly enjoy the video below. What does it show you? Obviously we all knew that ROM's would be coming soon, and that the Galaxy S II line will be getting updated to ICS eventually from Samsung — but this video shows you just how amazingly fast and smooth most of the things that are currently working actually are. And what we can expect to see in the future. GPU rendering works wonderfully and the scrolling and panning is exceptionally smooth. Once the bugs get ironed out and Samsung officially updates we will all be loving us some Ice Cream Sandwich.
Interesting point before the video — we have two menu buttons here. The on-screen ICS and the standard capacitive button, makes things both feel and look a bit odd but that shouldn't be an issue. As all these ROM's are built we can expect to see the soft touch buttons be removed to give us more real-estate on screen. We have the buttons already so there is no reason to waste screen space. We can expect this to be an option that users can toggle in most builds and ROM's in the future.
Galaxy S II Android 4.0 ICS hands-on: Alpha build

Just like I stated in the title of this article and the video — this is seriously an alpha build and in no way intended for actual use in the current form. Either way it was very fun and entertaining to give it a whirl for a few days and see what Ice Cream Sammy is all about. Once more things get ironed out and daily features get incorporated you can bet we'll be posting another video. This is just one of many many devices all at XDA that have similar alpha builds available. We urge you to check our your favorite developer portals to see if you can enjoy the same beta software on your own device.
For more information on this specific ROM or to try 4.0 ICS on your own Galaxy S II (we used the AT&T version here) feel free to head to this XDA thread. Thanks to @xplodwild we were able to enjoy this for a few days and look forward to more. If you are new to hacking Android we suggest you wait a little while or for an official OTA from Samsung. For more video's specifically about Android 4.0 Ice Cream Sandwich we have those right here. Enjoy!
Update: For those looking for more information you should also follow @aospsgs2 for the newest information and up to date builds
[device id=1422]