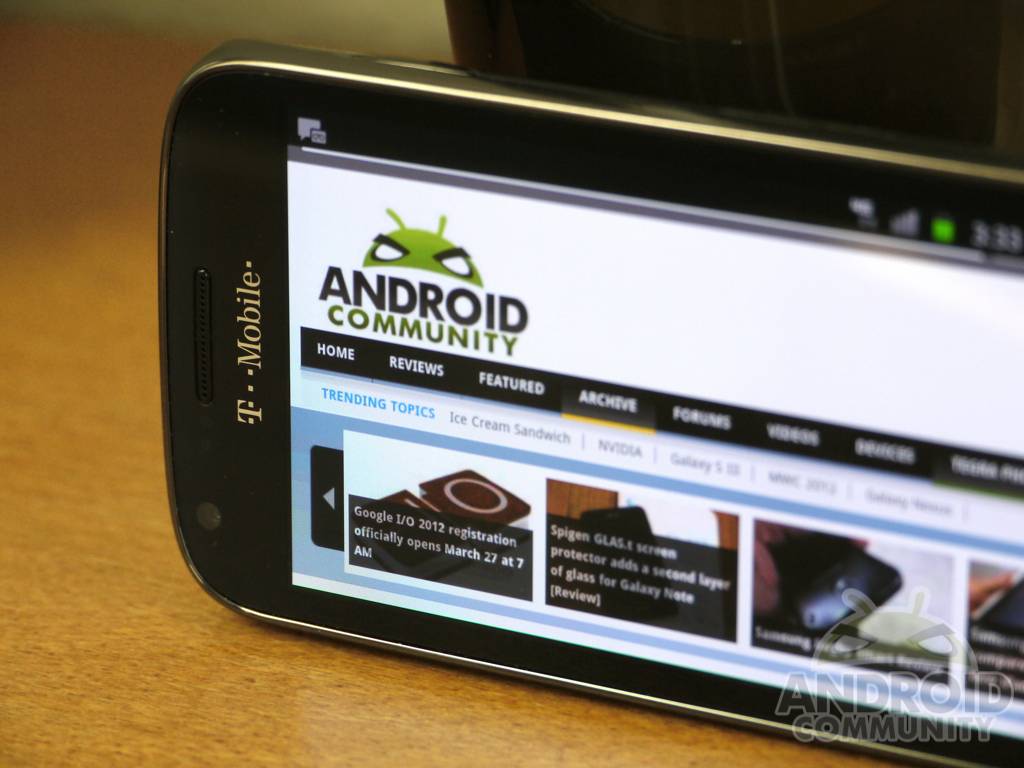 T-Mobile is set to unleash the new Samsung Galaxy S Blaze 4G tomorrow, March 21st in select locations, then nationwide on the 27th. This device comes to consumers with a upper-middle-class price, and the same can be said about its performance during daily use. This isn't the best on the market, but where are its shortcomings and is there anything it doesn't do well. That is the question most should have. Read on for our full review and thoughts.
The Galaxy S Blaze 4G could just be the perfect Spring and Summer smartphone from T-Mobile. Other than the HTC One S of course. With near top of the line specs and a great price this should be a popular phone for T-Mobile. Especially for the family or those not needing the best of the best. For starters check out our hands-on coverage and video here, then enjoy the full review below.
Hardware
The Samsung Galaxy S Blaze 4G comes in at a pretty unique spot for the market. It's much better than the original Galaxy S, but not quite as big as the Galaxy S II — although the specs come pretty close to matching everything else. Powered by a 1.5 GHz dual-core processor from Qualcomm with 1GB of RAM, and 4GB of internal storage it definetaly has no shortage of power. The only downfall would have to be the smaller 4-inch 480 x 800 resolution display, although it is still a beautiful and vivid Super AMOLED. For those not needing or wanting a large device this is quite possibly one of the best devices T-Mobile will have to offer this summer.
To round things off the Blaze 4G has 4GB of internal storage, and a 4GB SD card that comes out of the box. For cameras we have a quite impressive 5 megapixel shooter on the rear and VGA for the front if anyone feels like a quick Skype or Gtalk video chat. It's thin, lightweight, feels nice, and has great build quality. Samsung's added a nice aluminum bezel that gives it a quality feel, but does look a little too much like a Blackberry if you ask me.
We have the long and easy to press power/wake button on the right, followed with the micro-SD port, around to the left is the volume rocker then the usual 3.5mm headphone jack up top, and micro-USB for charging on the bottom. The picture above you can see the aluminum bezel and how it curves around back with that Blackberry styling. It isn't a bad thing though and I like the feel of the device during daily use.
Software
Under the hood is Android 2.3.6 Gingerbread with the usual changes from Samsung with their TouchWiz UI. Flicking back and forth from page to page seemed a little slower than some devices in the past, but nothing I'd consider a con. Android Gingerbread was fast, fluid, stable, and swift for me and that Qualcomm 1.5 GHz dual-core processor probably helps out here. This is basically a smaller, lighter, and cheaper Galaxy S II as it features the same processor as the original Galaxy S II from T-Mobile.
Games run great thanks to Gingerbread and the dual-core processor. There isn't anything this phone wont be able to handle, except for some of those Tegra only games, so you wont have any limitations go as far as software and games. Playing Riptide GP was a great experience with the bright and colorful AMOLED display too. Other than the usual T-Mobile bloatware pre-installed apps included Netflix, Slacker Radio, Zinio reader, Lookout Security, and TeleNav GPS. So it's pretty stock and doesn't have much bloatware, unlike most AT&T phones.
We see no reason for the Blaze 4G to not get upgraded to Android 4.0 Ice Cream Sandwich and hopefully once Samsung brings that update performance will be even better. Sadly they aren't known for being the fastest when it comes to updates, especially with phones that aren't their flagship devices.
Performance and Benchmarks
Like usual we ran a few benchmarks and just as we expected the Galaxy S 4G Blaze was extremely fast, efficient, and scored very high. The 1.5 GHz dual-core processor keeps things speeding along plenty fast, especially on this small of a display. Quadrant had no problem passing 3600, reaching Galaxy S II type scores with ease, and Vellamo blazed past most of the competition, especially in this price range.
For now, it's safe to say the Galaxy S Blaze 4G is one of the better performing phones for the T-Mobile lineup, and wont be beat until the HTC One S lands, or they get some quad-core smartphones. For review purposes lets just call this a mid-sized device, because it definitely isn't a mid-range phone with the specs on board. The only spec it actually is lacking is an HD display, and a quad-core processor but those are just making their way to the market.
Camera
Samsung's cameras have continued to be one of their stronger suits and nothing has changed here. While we don't have an 8 megapixel lens like the Galaxy S II the 5 MP camera seems to do quite well, even in a mildly lit room. Below is an example with a few close-up shots in the gallery below. The front camera is VGA so results are sub par at best, but at least the feature is still there for those that need it.
Battery Life
The Galaxy S Blaze 4G comes with a 1750 mAh battery and between the smaller screen size, and the AMOLED panel battery life seems better than most. Coming with the same size battery as many of the larger 4.3 and 4.5-inch phones from Samsung it offers better battery than all of them, and doesn't have LTE sucking down the battery life either. T-Mobile's HSPA+ works great and I've been able to stay on their "4G" throughout all of my city. The battery does feature NFC but the settings weren't present on the phone to enable this feature, maybe we can get the developer community active here once Android 4.0 ICS lands for the Blaze.
I've had the Blaze 4G on for a little over 9 hours today. Using it for personal calls, browsing the web, Twitter and Gmail syncing every few minutes and played a few games and I've still got around 44% battery remaining. This will surely get you through an entire day of medium to heavy usage.
T-Mobile 4G HSPA+
The "faux" 4G that T-Mobile has been using for a while now is HSPA+ and works great. It rarely toggles from 4G to 3G and doesn't suffer from the battery draining problems of AT&T and Verizon 4G LTE. It does tend to be less consistent with speeds throughout town but here in Las Vegas T-Mobile performs very well and I've achieved solid results around 9-12 MB/s download and 1 Up on average. I've tested this on multiple days and have been quite impressed although they still lack in upload speeds. Here is a good list of my results from multiple locations.
Wrap-Up
To wrap things up I'll mention that call quality was great, as T-Mobile usually is. The speaker was loud and clear and the speakerphone got more than loud enough. Data speeds weren't as good as I've seen before from T-Mobile, but impressed enough to keep me happy. There isn't really anything lacking from the Blaze 4G other than possibly the screen size and camera quality. If you want the best of the best from T-Mobile look for the Galaxy S II, or the HTC Amaze 4G. For everyone else that wants a great and overall solid phone, and for a great price, the Galaxy S Blaze 4G is the perfect smartphone in the overall scheme of things.
The Galaxy S Blaze 4G can be yours starting tomorrow for just $149 with a new 2-year contract with T-Mobile. This is a promising phone and would make most users happy. If you aren't in the need of a new phone this minute it might be worth waiting to see how the HTC One S with Android 4.0 ICS stacks up against it. In terms of what's available now, this should be near the top of your list for T-Mobile.
[device id=2369]