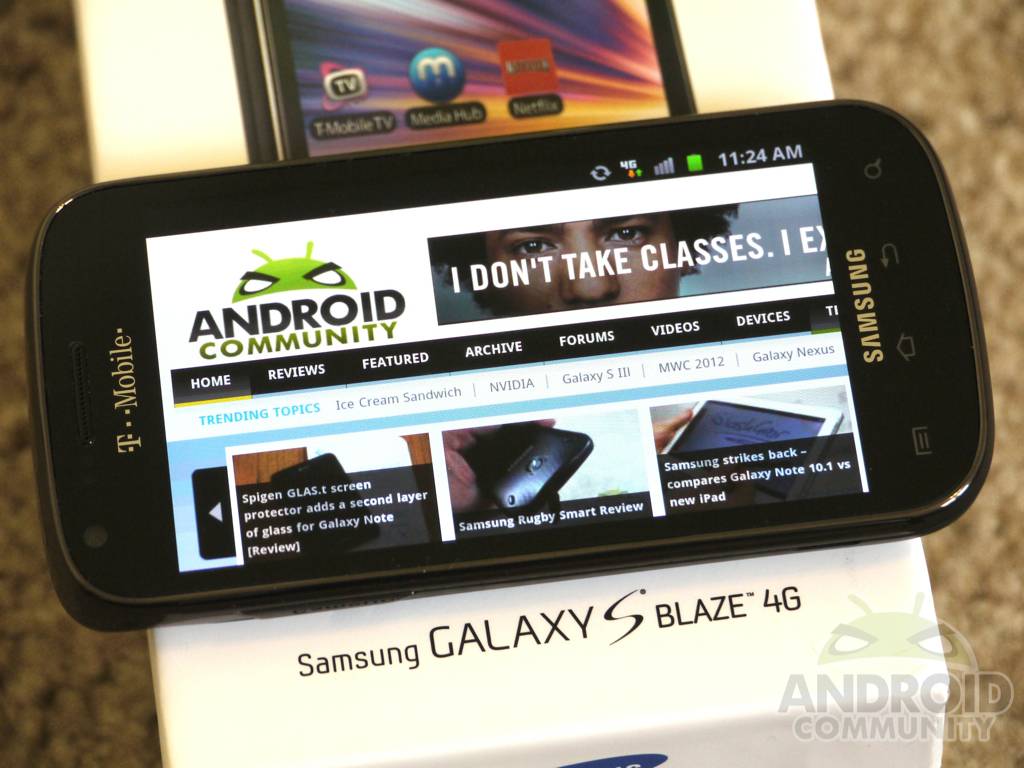 Samsung's latest Galaxy S device is about to land on T-Mobile next week. It's known as the Samsung Galaxy S Blaze 4G and will be available March 21st, and nationwide starting on the 27th for the low price of just $149. Today we've been lucky enough to get one early for some hands-on and an unboxing session so check it out below. Don't forget to notice how speedy those 4G speedtest results are.
The Galaxy S Blaze 4G is what I'd consider an upper mid-range smartphone. It's almost as high end as they come with a few very minor shortcomings. Does that make it a bad phone? Heck no! The specs are still awesome and will make anyone happy that doesn't want to pay those $299 prices for LTE phones on Verizon and AT&T.
The Blaze 4G specs include a 4-inch 480 x 800 AMOLED display, a 1.5 GHz dual-core Qualcomm S3 processor, 1GB of RAM, and 8 GB of storage (4GB built-in, 4GB user replaceable micro-SD). The device also comes equipped with a 720p capable 5 megapixel shooter on the rear with a 1.3 front camera for video chatting with Android 2.3.6 Gingerbread.
Check out my hands-on and unboxing video below for a better idea of the hardware but my initial impressions are quite favorable, especially with what you get for the price. While the slight curve on top wrapped in aluminum feels a little too much like a Blackberry, the design is still quite excellent and feels nice in your hands. The soft-coated rubber battery cover also gives users an easy and safe grip.
Since this is T-Mobiles latest 4G (HSPA+) device we gave it a run of speedtest just for good measure, and came away pleasantly surprised. Getting around 9-12 MB/s on average here in Vegas for download speeds is comparable to Verizon's 4G LTE on average, although LTE does have those days and spots where I crank out 25 MB/s constantly. Upload speeds were still a little slow here for T-Mobile but better than what we've seen in the past.
So far the T-Mobile Samsung Galaxy S Blaze 4G is shaping up to be an excellent choice come these next few months as we head into summer. It will be $149 with a new 2-year contract and you can learn all the details from the timeline links below. Sadly we don't have Ice Cream Sandwich but hopefully that update will come soon enough, depends on how Samsung feels i suppose. Enjoy the video and stay tuned for our full review next week.
[device id=2369]