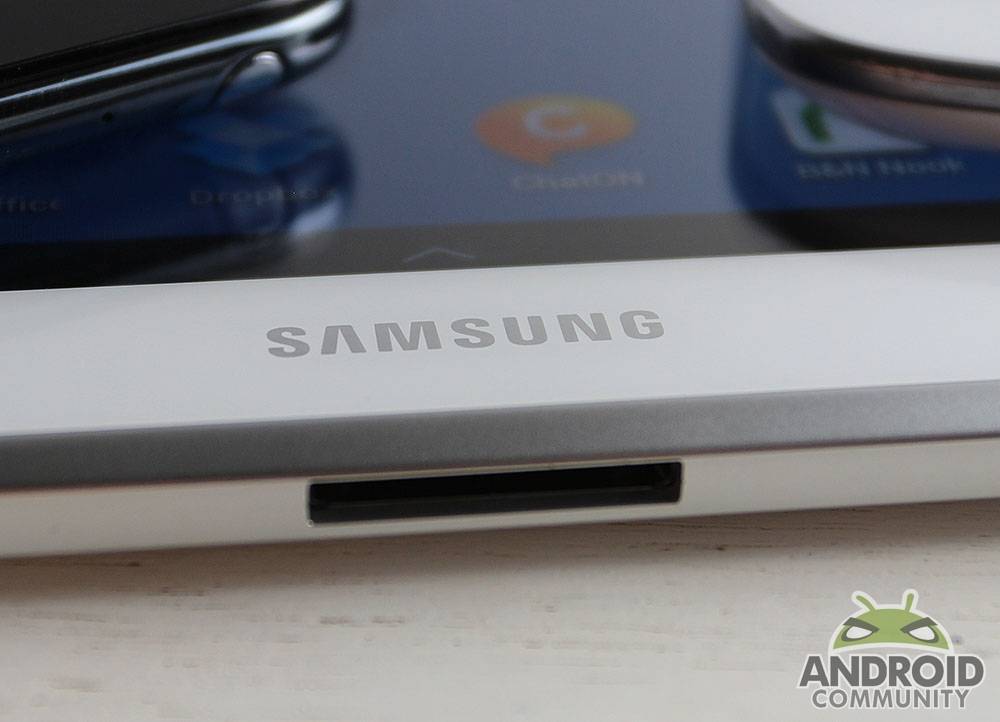 The past week or so we've been hearing quite a lot regarding Samsung's upcoming tablet plan to kick off 2013. The Galaxy Note 8.0 is what we are talking about of course. Multiple tips, leaks, and rumors have surfaced showing a device in the works that is clearly aimed at taking on Apple's popular iPad mini. While many think the iPad mini was an answer to the Nexus 7, Samsung still plans to fight tooth and nail for the space.
The iPad mini's display is 1024 x 768 across 7.9-inches, while the Galaxy Note 8.0 has been rumored as 1280 x 800 in an 8-inch form factor. That's pretty close if you ask us and just slightly bigger than last year's Galaxy Tab 7.7. Although that tablet failed and was overpriced. Samsung hasn't confirmed anything, nor have we seen any leaks that look concrete, but the image below is the latest in a long line of Galaxy Note 8.0 information. Update: Actual device images have now leaked.
Clearly the image could be fake. There's no flash for the camera and we see a phone app icon on the bottom. We're pretty sure Samsung won't be integrating phone features into this device — but you never know these days. If all the reports and rumors are correct along with this leaked image, the Galaxy Note 8.0 will undoubtedly be battling the iPad mini.
Reportedly the Note 8.0 will come with a 1.6 GHz quad-core processor joined by 2GB of RAM, 16GB of internal storage, a 5 megapixel rear camera, 1.3 front for video chatting, and we can expect a micro-SD slot as usual with Sammy. The leak also shows HSPA+ 21Mbps connectivity but there's no doubt in our minds this won't arrive on at least Verizon or AT&T with full 4G LTE speeds.
Samsung could drop LTE in favor of a lower price point to compete with the iPad mini, but that's highly unlikely. This tablet is shaping up to take on the Nexus 7, iPad mini, and anything else around this form factor right out of the gate. Don't forget it also has that S-Pen stylus for plenty of content creation too, not just consumption like those Fire tablets.
Most likely we'll be seeing Samsung's Galaxy Note 8.0 next month in Barcelona, Spain for Mobile World Congress. We have a feeling Samsung will be comparing it to the iPad mini right on stage during their Samsung Unpacked event. Stay tuned because there's also reports of a Note III with a 6.3-inch display, not to mention the Galaxy S IV is coming up quick. Can the Note 8.0 compete with the iPad mini, or does it even need to?