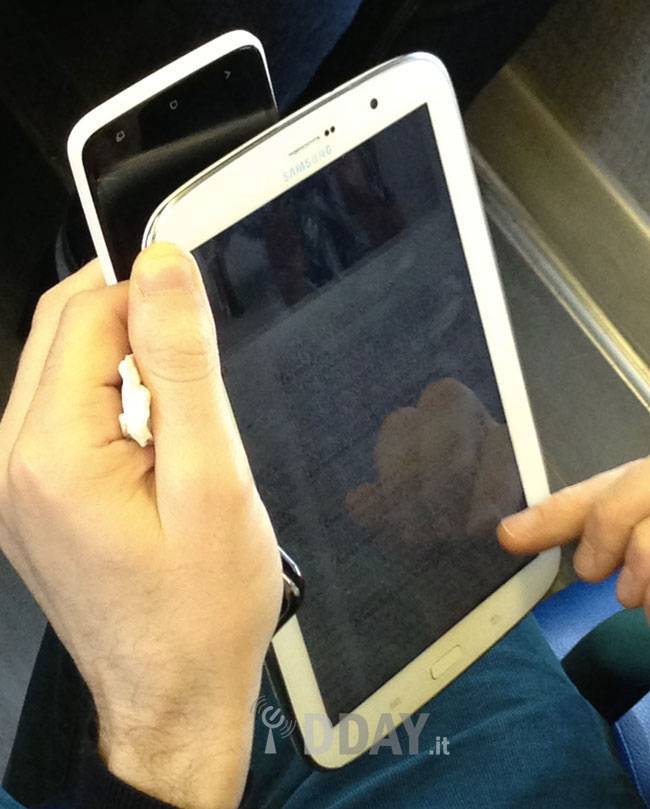 Continuing on the path of Galaxy Note 8.0 related leaks, we have another that has arrived today. This latest deals with images, and thankfully, it looks like we have moved passed the renders and into the real world style. The interesting part here, these real world Galaxy Note 8.0 images seem to match up with the render we saw yesterday.
Aside from these images lining up with the earlier, we also cannot help but notice the look of the tablet — it looks like an oversized smartphone. And sure, some have already placed the Galaxy Note II in that category, however the Galaxy Note 8.0 seems to take that a step further. We suspect that will be good news for some and not so good news for others. Personally, assuming these rumors play out and end up being correct, I may be looking to replace my Nexus 7.
These images are coming by way of the Italian language DDay.it website and include a few shots of that tablet. The one in particular is the one with the smartphone held just behind as it gives a decent look at the size of the tablet. Aside from the physical home button and the capacitive menu and back buttons, you can also see the S Pen which is on the bottom right hand corner of the tablet.
We are still expecting Samsung to come forward with an official announcement during Mobile World Congress. At this time, the rumored specs seem to be staying the same. That is to say, it looks like we can expect an 8.0-inch (1280 x 800) Super Clear LCD, quad-core 1.6GHz processor, 2GB of RAM, 16GB or 32GB of internal storage, microSD card slot, Bluetooth 4.0, 4600 mAh battery, 1.3 megapixel front-facing camera and a 5 megapixel rear-facing camera. Additionally, the Galaxy Note 8.0 should arrive with Android 4.2 Jelly Bean and in a Wi-Fi only and 3G cellular connected model.
[via SamMobile]