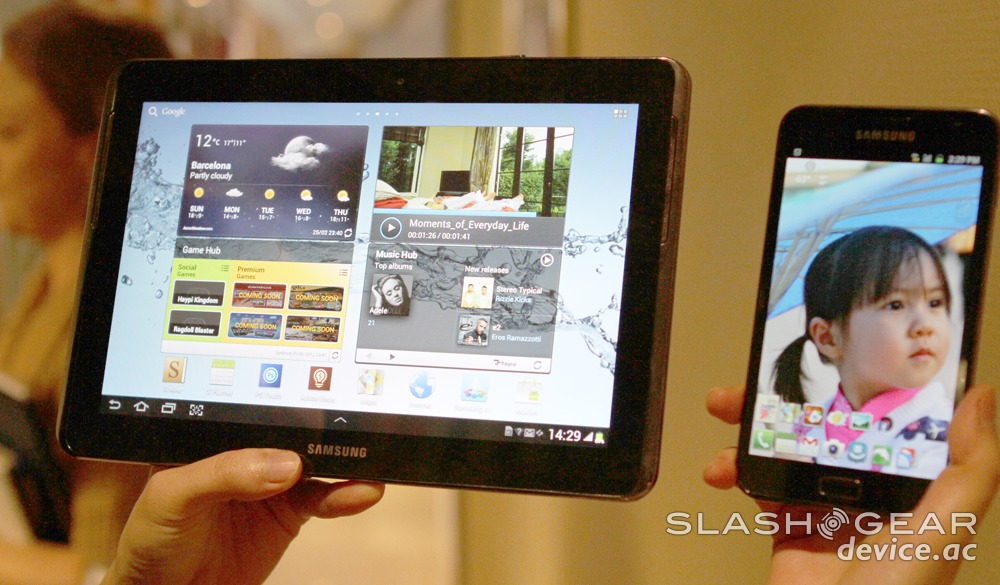 Long live pen-based input! That seems to be Samsung's new watchword, as they're expanding the Note series from the 5.3-inch Galaxy Note to a new 10.1-inch model, based around their primary Galaxy Tab line. It's a familiar device if you've ever held a Galaxy Tab 10.1, even more so if you happen to have seen the German G-Tab 10.1N, as the new series of tablets copies its speaker-forward design. Specification wise, it gets an upgraded 1.4 dual-core Exynos processor and a new "8 Pi" S-pen works in conjunction with a Wacom digitizer and Samsung touch apps. Storage gets a new, larger 64GB option – otherwise, the tablet is identical to the Galaxy Tab 10.1 2.
The biggest changes to the user experience come from a series of software apps running on the Ice Cream Sandwich-TouchWiz OS. In addition to the pen-based input, Samsung is pushing its "Live Panels" series of widgets, calling the experience a Multi-Screen interface. There's a heavy emphasis on notation, with magazine, diary, flash card and sketchbook apps. But it's more than just simple input: built-in handwriting and pattern recognition can convert your words to electronic text, even for standard mathematical functions. Simple shapes can be vectorized using Samsung's proprietary software.
And it isn't just Samsung who's invited to the party. The Galaxy Note 10.1 includes Adobe's Photoshop Touch and Adobe Ideas, a pair of apps that normally cost $10 each. They both take advantage of the digitizer and stylus to sense pressure, speed and stroke, not unlike the desktop version of Photoshop working with a Wacom digital pad. Other Samsung pen-enabled apps include Slice It! and Comic Book as well as Catch Notes, Touchnote, and Hello Crayon.
Samsung hasn't said when the larger Galaxy Note will become available, or for how much. Since they wouldn't let us handle the device ourselves, we've got to assume that there's a good bit of software engineering left to do. Obviously it'll warrant a premium over the standard Galaxy Tab 2 10.1 model, but since that is (and this is being generous) a light refresh at best, there's no way to know how much that will cost when it comes to market, either. Considering the added pen-based functionality and the new Samsung processor, the Galaxy Note 10.1 can now be considered Samsung's flagship tablet. We've been keeping an eye open around MWC 2012 for that rumored 11.6-inch tablet, but so far, it hasn't appeared.