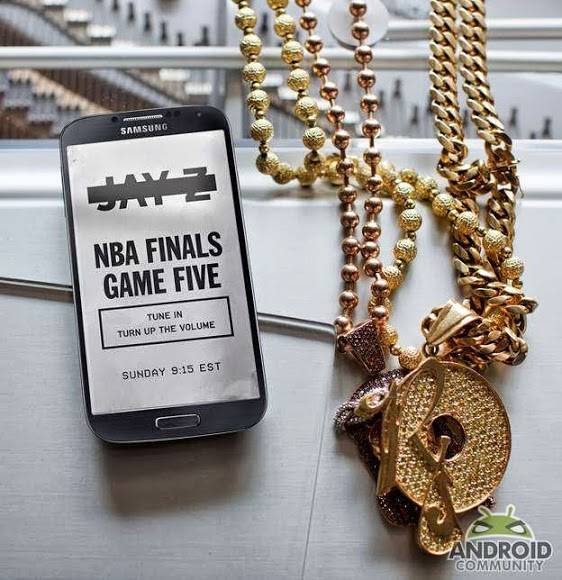 As you all know, the folks from Samsung have been going big lately with their ad campaigns, commercials, and superstar partnerships. Today we can confirm that one more biggie has just signed on, although we don't know the details. Samsung and hip-hop artist and entrepreneur Jay-Z have just teamed up for something big, and we'll find out all the details Sunday.
Last week we reported on a rumor that Samsung and Jay-Z are teaming up in some fashion and signed a deal upwards of $20 million. Today, we can indeed confirm that at least the partnership is real, and it looks like we'll be getting some music related service out of the deal.
Jay-Z isn't just a hip-hop artist, he's one of the most successful entrepreneurs in the music industry as of late. His record label Roc Nation will probably have something to do with this latest Samsung partnership, as the image above clearly shows their logo on that bling bling gold chain. This is all we have at the moment, but won't need to wait long before we learn all of the details.
Samsung's had huge adverts during the entire NBA Finals, and it looks like we'll learn all of the details Sunday during Game 5 of the NBA Finals where Lebron James and company will once again bring the Heat on the Spurs. The game kicks off at 8:00 EST (5 PT) and Samsung is teasing we'll learn what's new from Jay-Z and the Galaxy S4 at 9:15 EST.
We're going to go ahead and guess something music related, obviously. Possibly something along the lines of a free music streaming service for Samsung devices to compete with iTunes Radio and Google Music All Access. A service which would go nicely with Samsung's Music Hub. Stay tuned folks! We'll know more soon.