I have some good news for all you non Tegra 2 device users today. The highly popular racing game Riptide GP will be splashing onto all Android devices soon. Riptide GP is the highly popular and visually stunning NVIDIA Tegra 2 exclusive game from Vector Unit but today the developers have announced it will be available for all Android devices here shortly.
This game was originally released only for the NVIDIA Tegra 2 platform and we've been able to enjoy it on our smartphones and tablets for a while already. You can see our pre-release review here, then a follow up review with even more video when it officially launched. There are a few hacks around making this available for non Tegra devices but those days will soon be left behind when Vector Unit releases Riptide GP for the masses.
Riptide GP Gameplay Demo
[vms 767cffec0e513ae886df]
Riptide GP is one of the best racing games for Android and being on water gives it a unique element most others currently cant rival. This is essentially a Jet Ski racing game if you didn't catch that by now, but with stunning visuals, exceptional physics and lifelike water motion and more this really is one of the more polished and complete games I've enjoyed in a while.

Features
-12 dynamic, twisting, and futuristic water raceways
-6 screaming fast jet skis
-3 game modes: Race, Hot Lap, and Championship
-Grab massive air and perform dramatic stunts to earn boost
-Alter your environment mid-race with interactive triggers
-Earn Achievements, post to Leaderboards, and race against your Friends' best split times with integrated OpenFeint™ support
-Easy and fun to pick up and play – yet delightfully challenging to master
Riptide GP is one of the awesome games that also supports the new Logitech Wireless GamePad F710 for Android. We were able to give that a try so click that link and see both this game and the wireless controller in action.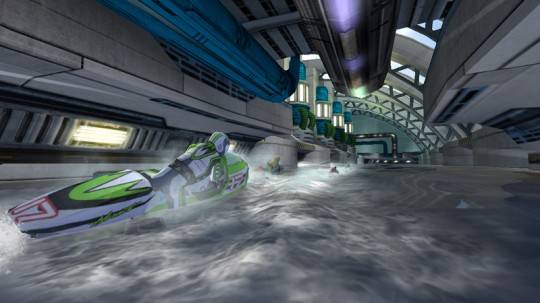 Vector Unit does mention that the minimum specification for playing the upcoming version for all devices should be an 800 MHz processor, although they recommend dual-core devices for optimal performance and experience. Most phones are currently 1.0 GHz or more so this shouldn't be too big of an issue unless you have an older phone. We should be seeing Riptide GP for all Android phones and tablets sometimes this month, slated for a late October launch.
[via DroidGamers]