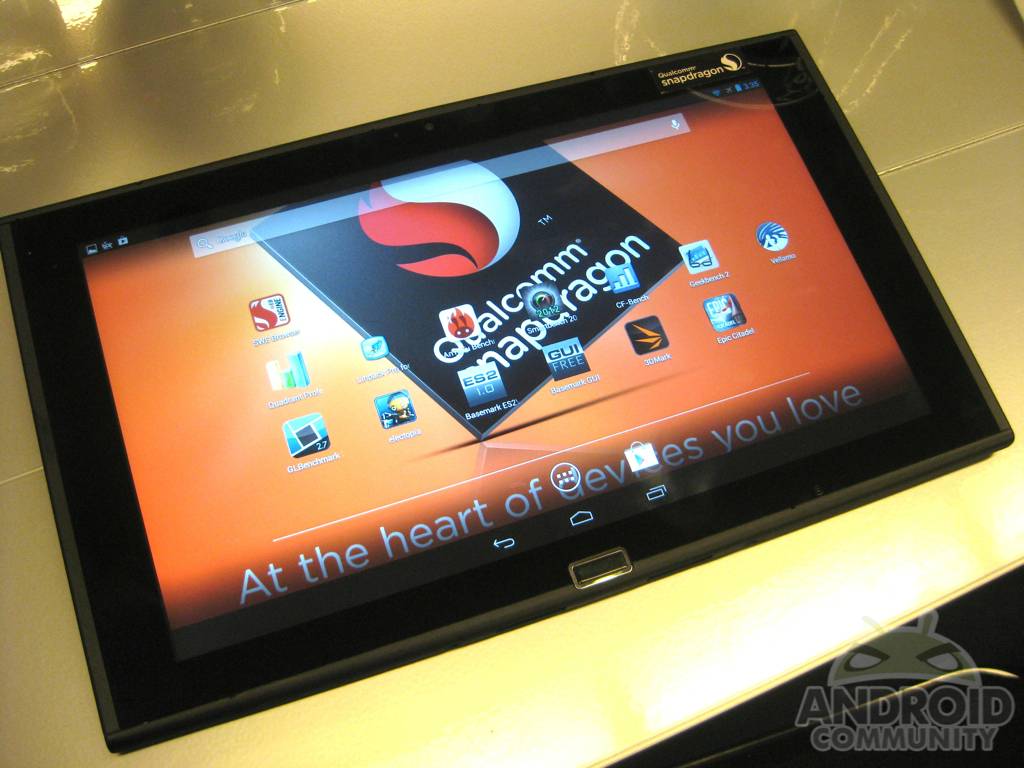 Today we're lucky enough to be getting a first-hand and up close look at the latest and greatest in mobile computing from the folks at Qualcomm. Their Snapdragon 600 series is an extremely impressive quad-core chipset powering all of today's most popular handsets, but now we're looking at what's next which is what many are waiting for, and that is the 2.3 GHz quad-core 800 series.
The Qualcomm Snapdragon 600 and 800 series processors were announced earlier this year to follow up the wildly successful Snapdragon S4 Pro powering Google's Nexus 4 and more, and we're happy to be taking a look at the best part of the entire pack. The Qualcomm Snapdragon 600 powers the HTC One, Galaxy S4, and many upcoming flagship devices, but the next-gen wave of devices later this year will all (hopefully) enjoy the Snapdragon 800 and all it has to offer.
The Snapdragon 800 will be Qualcomm's flagship and top-tier silicon for the rest of 2013, and into 2014. A system on chip that Qualcomm claims will power all "premium mobile and computing devices." The 800 will be their first processor on the improved, faster, and more efficient 28nm processor fabrication. Much like the Cortex-A15 processors. Qualcomm Snapdragon 800 SoC's include the new next-gen quad core Krait 400 CPU, Adreno 330 GPU, Hexagon v5 DSP and more. They've also integrated their latest 4G LTE Cat 4 modem to deliver increased system performance, connectivity, battery life, and much more.
Not only that but the 600 offers 40% performance improvements over the S4 Pro quad-cores from last year, but the Snapdragon 800 series will offer 35% better performance than the 60, and 75% more than last year's flagship. We'd say that's a pretty huge increase. More details about these devices (which have a slew of everything, obviously, for developers) can be found right here from Qualcomm. Let's talk about the hardware.
Qualcomm Snapdragon 800 MDP (Mobile Development Platform) Phone
As mentioned above, these devices are clearly for developers and testing, so come with an array of ports, cameras, sensors and anything else any manufacturer could possibly imagine. We'll never see one hit the market, but it's still fun to check out while we prepare to benchmark this beastly new processor.
The 800 series MDP Phone only comes in at 4.3-inches and 720p, but they'll be testing 1080p plenty on the tablet. The quad-core Snapdragon 800 works at speeds reaching 2.3 GHz, which is blazing fast, yet it's still efficient. We have 2GB of 800MHz LPDDR3 RAM, a 12 megapixel rear and 2.1 front camera setup, 6 microphones and ultrasonic emitter, pen support for stylus activities, then tons of sensors and connections. We'll be testing the performance soon, so here's some pics.
Qualcomm Snapdragon 800 MDP (Mobile Development Platform) Tablet
The tablet is a bit more impressive, but again only for development so it's just full of awesomeness to test any possible solution. We have a large 11.6-inch 1920 x 1080p full HD display with 10-point multitouch. The same 2GB of RAM, 32GB storage, 12 and 2MP cameras, and that impressive 2.3 GHz quad-core 800 series chip.
An important thing with the 800 series processor is Quick Charge 2.0 support, making charging our devices up to 65% faster than anything in the past. As we grow to quad-core processors, 1080p displays (in phones too) and beyond bigger batteries are needed, and charging needs to be faster. Qualcomm addressed with with an efficient chip, and ultra-quick charging systems.
The tablet is pretty crazy looking, but nothing we haven't seen before. Below in the timeline you can see our previous coverage of multiple Qualcomm MDP kits we've enjoyed in the past. The 11.6-inch screen is quite interesting, and we wouldn't mind seeing that rumored Samsung tablet come with a Snapdragon 800 and a screen of this size.
These devices have been making the rounds here at Qualcomm's Mobile benchmark workshop, so show signs of usage. The developer devices will probably be available to purchase soon (it was $1,200 last year) and we'll update when we know more. Stay tuned for plenty of hands-on details, and tons of benchmarks as we put this processor through the ringer. We can't wait to see the Snapdragon 800 series hit smartphones and tablets later this year.