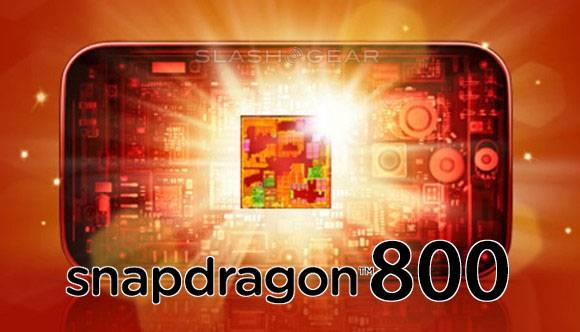 Today those awesome folks from Qualcomm have outlined and detailed their attack on the mobile processor market for 2013. With their highly popular quad-core Snapdragon S4 Pro being the king of the latter half of 2012, they're back with two brand new and improved quad-core Snapdragon's for 2013. With improvements to all areas from speed to battery life, read on for the full details.
The all new Snapdragon 600 and 800 series mobile processors represent a significant leap in performance and usability for mobile devices, while expanding on more than just the average mobile aspects. Being the central hub of our content these days, Qualcomm is working to improve in all areas. The Snapdragon 600 series is what we'll be seeing first, and is set to replace their current flagship S4 Pro 1.5 GHz quad-core. We all know the excellent performance it offered in the LG Nexus 4, Optimus G, DROID DNA and more, and Qualcomm's looking to take that to an all new level in early 2013.
The Snapdragon 600 should theoretically offer "up to 40% increased performance" over the S4 Pro before it, and has speeds ranging from 1.5 GHz to 1.9 GHz on all four cores. Then as usual, Qualcomm's focused heavily on battery life and promise to give us a 40% performance increase while offering less battery usage. While they haven't detailed exact battery stats, we're expecting pretty significant increases across the board. This new SoC works with a quad-core Krait 300 CPU and the graphics are powered by a faster Adreno 320 GPU as well as support for LPDDR3 memory. We can expect mobile devices to rock their new 600 series in Q2 and throughout the summer of 2013.
Up next is Qualcomm's new flagship Snapdragon 800 mobile processor. A system on chip that Qualcomm claims will power all "premium mobile and computing devices." The Snapdragon 800 will be their first processor on the improved, faster, and more efficient 28nm processor fabrication. Much like the Cortex-A15 processors. Qualcomm Snapdragon 800 processors include the new next-gen quad core Krait 400 CPU, Adreno 330 GPU, Hexagon v5 DSP and more. They've also integrated their latest 4G LTE Cat 4 modem to deliver increased system performance, connectivity, battery life, and much more.
Above when we stated "premium mobile and computing devices" there was a reason for it. With smartphones only needing so much power, is a 2.3 GHz Snapdragon 800 really needed? Qualcomm's answer is undoubtedly yes. With smartphones being the central hub for all of our daily tasks, pictures, videos, gaming, and more the power will always be improving. When your smartphone needs a single-core for web browsing you'll be fine, when it needs the power for HD gaming streamed to our home theaters and 60-inch TV's, Qualcomm will have that covered too. Smartphones are the hub of our daily lives, as well as other computing devices will also be powered by their latest and greatest.
While the new Snapdragon 600 offers 40% improved performance over the current 1.5 GHz S4 Pro, the Snapdragon 800 will offer over 75% performance improvements, as well as much improved battery life due to the improved and more efficient 28nm processor fabrication process. The Snapdragon 800 also supports displays up to 2560×2048 as well as Miracast wireless video streaming at 1080p HD. Which works with Android 4.2 Jelly Bean and above. Qualcomm's made huge strides in increasing performance, without compromising on battery life. In fact our mobile devices will see better battery performance while also offering top-tier speeds. As soon as we get some hands-on time we'll test em out with a few quick benchmarks and report back. 2013 is already shaping up to be another huge year for Snapdragon.