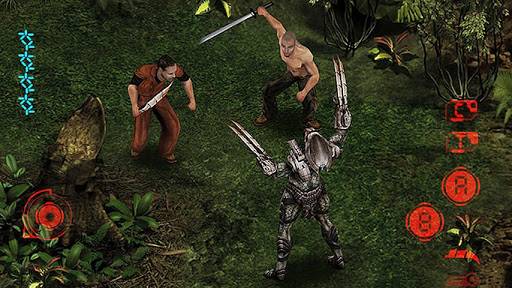 If you're a fan of the popular Predator Movie series, or just love classic games for Android we have an awesome one worth mentioning today. Brought to you officially by Fox Digital Entertainment is the official Predators game for Android. It's tons of fun and today is on sale for just $0.99 for those interested.
You can go ahead and make your Arnold or Governor jokes right now, because we won't be playing as him. Instead in this epic game for Android phones and tablets we actually get to be the Predator! We get to be the ultimate hunter and destroyer in this iconic sci-fi film right from our couch. We've heard good things about the game and now that it's on sale, you should certainly check it out.
You'll be tracking down and hunting elite human assassins as you learn to be stealthy and deadly like the rest of the Predator clan, and eventually become one of them. There's bonuses for kills, you can collect trophies, and even collect alien technology to hone your attacks.
The environment in game is rather intense, the graphics are pretty impressive and gameplay is extremely smooth and easy to navigate. You'll be hacking and slashing in no time. The game is actually developed by Angry Mob Games, the creators of Guerrilla Bob and Muffin Knight. This means you can expect some quality graphics and a good time. This initially hit the Play Store for $2, but now can be yours for just under a buck. Give it a try today from the link below and let us know in the comments what you think.
[via Droid-Life]