The Pebble app has officially launched for Android. The app is available from the Google Play Store and comes with little in terms of surprise. Simply put, the app is free and notes the device support as being Android 2.3.3 or later. That said, if you have a Pebble e-paper watch coming — this is the app that you will not only want, but need.
The app came available so we installed it and began checking things out. The unfortunate part here, our Pebble has yet to arrive which means this hands-on app experience was more of a tease than anything else. When you fire up the Pebble app for the first time it will prompt you to turn on Bluetooth. Assuming you had Bluetooth turned off to start.
Otherwise, aside from the Bluetooth prompt, the app defaults to the "My Pebble" page telling you that you are not connected and offers the option to connect. Of course, without a watch you will only get the "could not find Pebble" warning message. Aside from the My Pebble page, the app also offers some Sample Notifications and Watch Apps. Again, without having a Pebble you will be limited in use here, however you will be able to scroll through and at least begin to pick some of your favorite watch faces. At present we are showing a total of five including Brains, Segment Six, Just a Bit, Big Time and TickTockToe.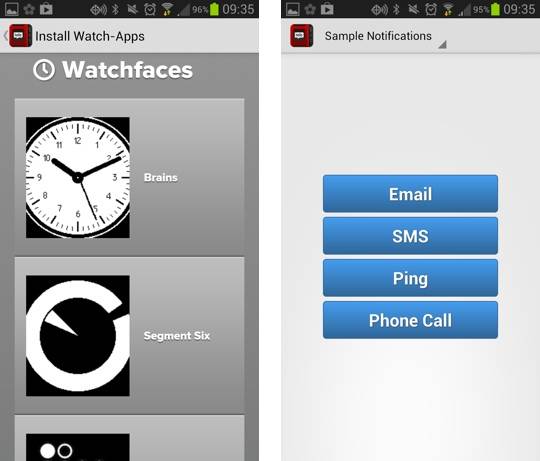 Another feature of the app will include notifications of when a software update comes available for your Pebble. Those with a Pebble on the way can head on over to the Google Play Store and download the app. Before you run and do that we will offer this one warning — seeing the Pebble app on your phone may end up tormenting you a little bit.
Finally, for those who cannot get enough Pebble, we offer the reminder of our hands-on video and interview with Eric Migicovsky which took place during CES. You can check out those videos right here.