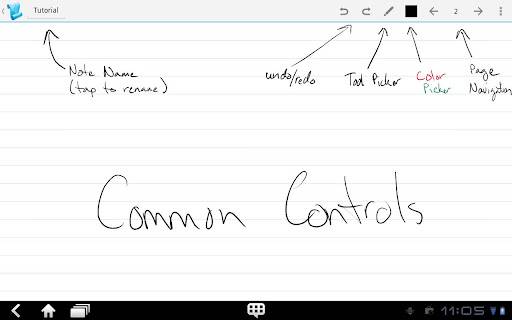 With all the styli floating around the Android tablet world, it was only a matter of time before someone made a really excellent notation app for pen-based input. That app is Papyrus, a long-term project from indie developer Steadfast Innovation. The free app introduced its first beta version today, and you can download it on the Google Play Store. While it's technically possible to use standard finger input in Papyrus, it's specifically designed for Android tablets running 3.0 or later with stylus input options.
Papyrus brings the tried-and-true notation app into a more modern setting with full support for Android's tablet interface, making the various writing tasks much easier. There's also active gestures for quick stylus-based control – a lot like the old PalmOS used to have when every pocket computer came with a plastic pointer. You can share your notes via the standard email and Evernote services, or save them for your own as PDFs. Also, strokes are saves as vectors – a small thing, but trust me, it's useful if you're planning on importing any saved data into any sort of graphic design program.
Papyrus supports HTC's Scribe Pen on the Flyer, EVO View 4G and the Jetstream, as well as the Lenovo ThinkPad Tablet's built-in stylus. There's a distinct lack of support for the Samsung Galaxy Note and its S-Pen, but that's probably because the app is designed only for Honeycomb and Ice Cream Sandwich. Once the Note gets its ICS upgrade and/or the Galaxy Note 10.1 tablet hits shelves, the app will probably be updated to support the S-Pen SDK. Owners of other tablets can use a passive stylus (the cheap ones you see in all the electronics stores) but will miss out on pressure sensitivity.