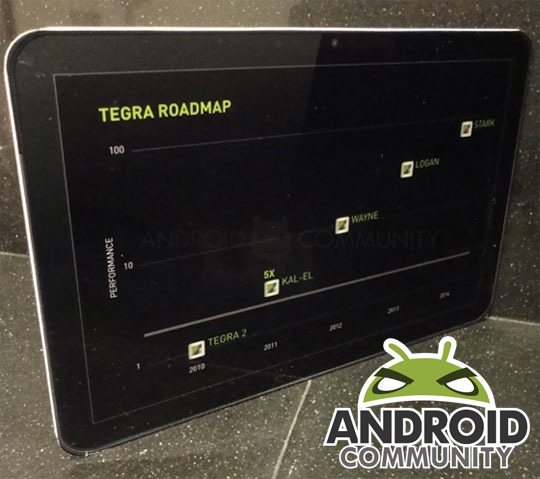 And yes, Nexus 3 is going to exist. Are they going to intersect? That's what the Android forums are abuzz with, but as the NVIDIA Q1 2011 gives not even a clue about such a thing, I'm going to go ahead and call fluff. I've got a very informed exclusive quote from an industry official below on the matter, and that should clear everything up for everyone. Meanwhile this news that KAL-EL will be coming out this year isn't exactly new either since all the way back at the initial announcement during Mobile World Congress 2011 a within-the-year timeframe was the plan.
Yesterday was the day that NVIDIA's earnings call for quarter 1 of 2011 took place, and the quotes in questions are the following, the first spoken by none other than Jen-Hsun Huang:
"We're working very closely with Google on Ice Cream Sandwich, and it's a very important new generation of operating system based on starting from the Honeycomb base and I'm expecting it to be really terrific. And so we're working very closely with the Google team, and Tegra will be surely be wonderful for Ice Cream when it comes."
What does that tell us? That that NVIDIA's future and present chips will work with Ice Cream Sandwich. This should not be seen as new news as Ice Cream Sandwich, Google says, has no new hardware requirements, and will be able to be applied to older devices without a problem once it's released. Earlier in the call there was an announcement that "project KAL-EL based tablets [will be] hitting consumer shelves later this year." Next, a question and answer:
Alex Gauna – JMP Securities LLC

I don't want to get too far ahead as my follow-up chance, and I was wondering, in addition to 3.1 at Google I/O, Ice Cream Sandwich was center stage. And I was wondering how that does or does not intersect with your quad core Kal-El? And the complexities of what Google is trying to do and what that means for your quad core technology?

Jen-Hsun Huang

We're really excited about the work that they're doing on Ice Cream. And I can't comment too much more other than that, but we're working very closely with their teams on the Ice Cream Sandwich. And as all of these products — they will come to the market when they're great, and I'm certainly expecting them to be great on this year.
So Android 3.1, Ice Cream Sandwich, and KAL-EL will be released this year. None of this should come as a surprise as each of these projects have been announced previously, each of them with a 2011 projection built in. Now for the most important quote, this one from a personal friend of mine, Susi Burns, my dog:
"Yes, another Nexus device will be coming out some time in the future. There will also be more Android devices, more computers will be produced this year, and I will also need to be taken outside for a bathroom break some time in the next 24 hours"
I'd like at this point to thank SeekingAlpha for their helpful transcript of the NVIDIA sales call. Also if you'd like to know the potential power of this newest chipset from NVIDIA, head to our Benchmark Post.