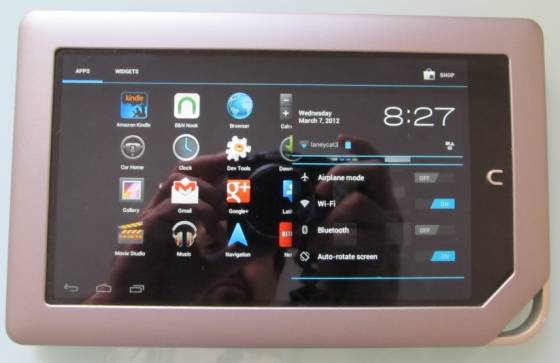 While the original Nook Color was (and is!) a robust platform for aftermarket hacking, Barnes & Noble's decision to make the upgraded Nook Tablet with a locked bootloader has caused some headaches. The Nook Color has had CyanogenMod 9 (Ice Cream Sandwich) for months already, but it's taken until now for some industrious XDA developers to get it running on the Nook Tablet. Even so, it's still operating off of the stick Gingerbread 2.3 kernel, thanks to the aforementioned bootloader lock.
That means that while Android 4.0 Ice Cream Sandwich will boot, run, and for the most part work, it won't do so with the greatest of ease, and force closes and random reboots are pretty common at this point. And of course, the speed and responsiveness is nowhere near other CM9 ports, even on the less-than-optimal HP TouchPad. Anyone who's tried to run Gingerbread on a Froyo kernel will know what the experience is like.
Pretty much everything works, though – WiFi, Bluetooth, audio and video – though the standard video acceleration isn't working, so HD YouTube, Netflix, HBO go and the like are all out of commission at present. CM9 versions of Google apps seem to be doing OK. Problems include a tendency towards the sleep of death, so be warned. The developers are hoping to move to a later kernel at some point, though how and when is not firmly established.  Naturally you flash it via a custom recovery, and make a backup – your warranty is already voided just by reading this article!
[via Liliputing]