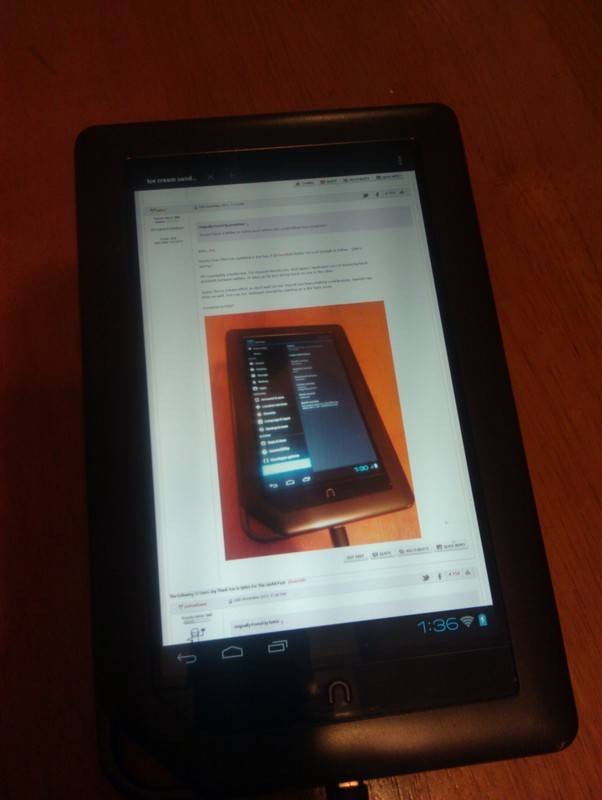 As to be expected we are seeing loads and loads of CM9 or Ice Cream Sandwich ROM's for all types of Android devices. The popular NOOK Color that was highly hackable and enjoyed Honeycomb before many others is taking the same route with Ice Cream Sandwich. Thanks to a few hard working developers over at XDA the NOOK Color is starting to see new life and 4.0 Ice Cream Sandwich is coming along quite nicely.
Currently this is still very much in the development stages and is a work in progress. Although after seeing some of the screenshots over at the XDA thread it appears to be coming along quite nicely. With many key components all working great and even pulling some features from CM9 this looks to be right on track.
Obviously being a work in progress things are broken and its not perfect but it's working pretty well for many and has tons of support. Some audio and hardware acceleration problems are a few of the main issues at the moment but looks like most the main functions are working fine. Still being highly in development mode this isn't probably something users should run for their daily ROM on the Nook but if you'd like a taste of Ice Cream Sandwich this should be loads of fun.
Do take notice that this is not for the casual modder and needs some serious hacking to get up and running so proceed with caution. If you know what you are doing or would like to read all the available information and give this a try yourself head down to the XDA thread below and get started.
[device id=465]
[via an.droid-life]