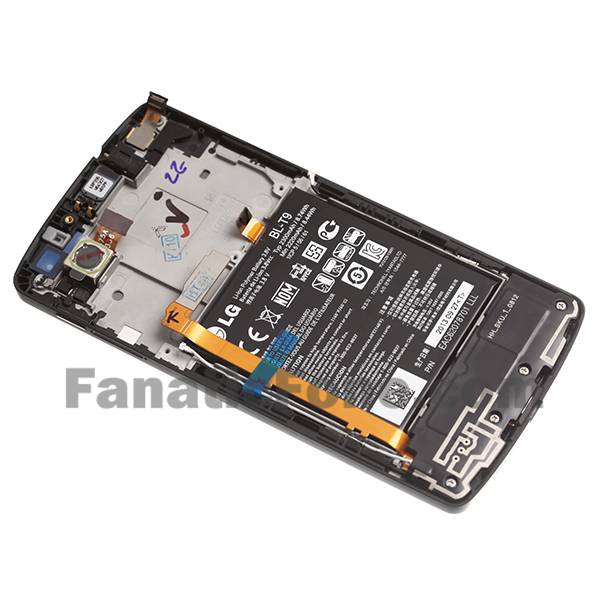 October 31 has arrived and while we have yet to hear anything from Google on the Nexus 5, that doesn't mean the leaks will be quieting down any. In fact, some new images have recently surfaced. And nicely, this time around we are getting some crisp, clear high-resolution shots to gawk at. These pics are of the internals and have been shared by the folks at FanaticFone.
Given the frequency of leaks, we are unfortunately not getting any new details with this set of images, but thinking on the bright side — these have offered some further confirmation. For example, the display was shown to measure in at 4.95-inches. And as those earlier leaks have show, that should be Full HD in resolution.
The leaked images have often shown the camera lens sitting on the back of the handset. Specifically, on the top corner of the handset. This time around we are getting a look at the lens without the back cover in place. Nothing new in terms of details, we are still expecting the camera to be 8 megapixel with optical image stabilization. And while we were not expecting a huge camera lens, the actual hardware does appear small as compared to how it looks with the back cover.
Some of the other pics show the battery, which again was shown to be 2300 mAh. We mentioned this bit yesterday, but it seems the 3000 mAh battery option has all been proven false. That appears to have been nothing more than a case of wishful thinking, but sometimes, that is how the rumors go. Otherwise, there are also some shots (seen in the gallery below) showing the speaker grill on the bottom and the earpiece on the top.
With that, while Google has yet to offer any news of the Nexus 5 release, that could still be a case of it being early on the west coast. Maybe the folks at Google just aren't up and moving yet. Then again, that could be similar to the 3000 mAh battery — a case of wishful thinking. Finally, to recite the previous rumors, Google is expected to announce the Nexus 5 and Android 4.4 Kit Kat today with delivery starting tomorrow, November 1.