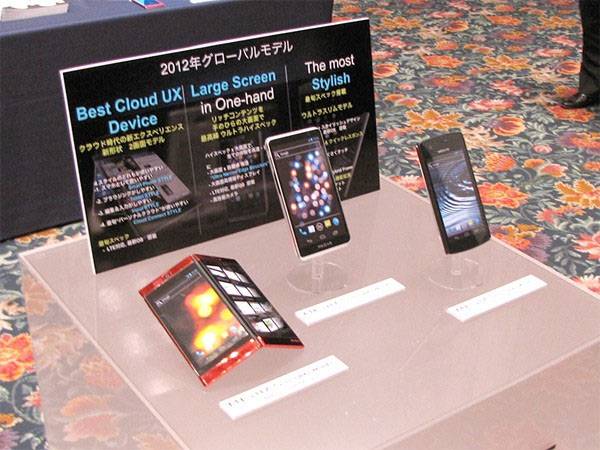 First it was LG, now another initiated manufacturer is giving us the goods before the big show. Japanese OEM NEC has displayed a trio of new high-end MEDIAS phones set to make their public debut at Mobile World Congress next week, All three are relatively large devices (especially for the Japanese market) running Ice Cream Sandwich, and all of them appear to be in the prototype stage. The interest is mostly academic for us since NEC rarely makes its hardware available outside of Asia, but at least one of the phones will strike a chord with those who love to see unique form factors. Impress Watch caught a look at them in an early press event.
That would be the "Best Cloud UX Device", which is pretty clearly  pre-production name. The device revives the dual-screen design last seen on the Kyocera Echo, though this time it's a lot more up-market. A double-hinged design allows it to open up reverse-book style, though I suppose you could use it like a tiny laptop with a touchscreen keyboard as well. This sort of form factor has been popular with less powerful "electronic translator" devices. It looks like NEC has some custom software running on it, to deal with the extra interface tweaks.
The other two devices are more contemporary, though the "Large Screen in One Hand Model" is a dead ringer for the Samsung Galaxy Note, thanks to its 5.0-inch screen. "The Most Stylish" looks like a 4.3-inch model, without too much to distinguish it from similar phones except that it's running ICS. The other two do as well, and unlike HTC's leaky MWC phones, they're all using virtual navigation. Like I said above, these almost certainly won't be showing up in Europe or North America any time soon, but we'll keep a lookout at MWC regardless. Make sure to check our Mobile World Congress portal for the latest updates.
[via Engadget]