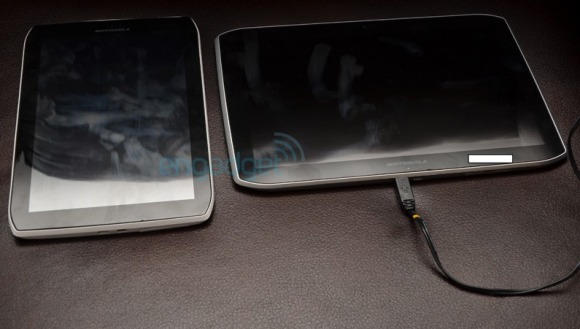 Motorola is prepping a few tablets to refresh their lineup from the original Xoom. We first saw what appears to be a 7″ Motorola Tab in the wild earlier this month, then more pictures leaked last week. We have heard about an 8.2″ media edition so they might even have a 7, 8.2, and 10.1″ in the works but that has yet to be confirmed. New details are claiming the 7″ Motorola tablet will launch this November.
According to Digitimes, Motorola is building the 10″ model in-house while letting Compal work on the smaller slate. We are also hearing neither will launch with Android ICS and instead come with Android 3.2 Honeycomb but that was to be expected this early on. However, because of Google's planned acquisition of Motorola Mobility, the expectation is that the new tablets will be first in line once Ice Cream Sandwich is finally here and being pushed to manufacturers for updates.
A full gallery of both the 8″ and 10″ were leaked this weekend, giving us yet another look at these unknown tablets. We know they are coming, and soon, but that is about it. No specific hardware details have been released other than they are super thin and will be around 9.3mm thick. These newest photos reveal a more industrial and unique design compared to the original Xoom's standard black design and look. With angled edges and an entire different looking rear it appears Motorola is taking a new angle on design.
According to tipsters the 7″ variant will land sometime this November, and the Xoom 2 coming in at 10.1″ will be available in December but as always these dates are subject to change.
[via SlashGear]