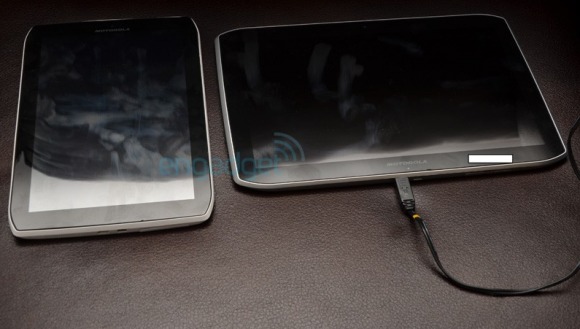 It appears the Motorola Xoom 2 might have been hanging out at the FCC this weekend. What seems to be a mystery tablet from Motorola was spotted sporting specs similar to recently leaked Xoom 2 devices, but we still aren't sure what we are seeing and have been digging around trying to figure out more on this mystery device.
What we do know, is we have a Motorola tablet most likely part of the Xoom family but that is all she felt like sharing. In September we saw two new Xoom tablets, a 7″ and a 10″ variant and then recently a few reports of an 8.2″ model has also been revealed. The slate is tagged with a FCC ID of 56MJ3 that makes it line up with other Motorola tablets, and the FCC filing claims a 1.2 GHz dual-core processor, 1GB of RAM, HDMI out and the usual 1280 x 800 resolution so things are sounding pretty accurate about now right?
This could also just be the FCC filing for the recently spotted Xoom Family edition that is very similar to the original but it wasn't listed as having a faster 1.2 GHz dual-core processor so most likely we are seeing more evidence of the new slates coming soon. The last details we heard was that the new Xoom 2 in the 7″ form factor was coming this November, with a super thin 10″ version hitting the shelves in early December. Sadly I wish the filing would say Ice Cream Sandwich but I'm just dreaming here. Hopefully we see more of these tablets soon and if we do, you'll be the first to know.
[via Engadget]