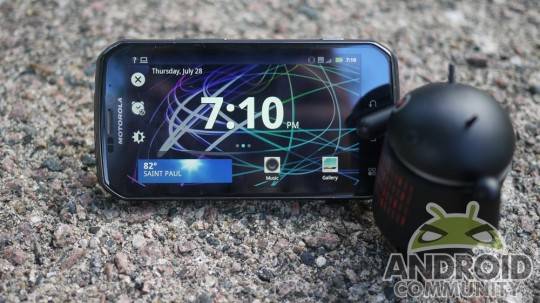 New details have now confirmed the Motorola PHOTON 4G is receiving an OTA update this week that should bring a slew of bux fixes as well as improvements to the WiMAX powered smartphone. The update is pretty sizable but most of that is probably new applications that will take advantage of the recently unveiled Motorola Lapdock 100.
The update isn't too large and shouldn't take but a few minutes to download about the entire process should only be around 10 minutes. One very notable new feature is the update brings Google Talk with video chat to the PHOTON 4G, something that sadly was missing. Then as usual we have some enhancements and bug fixes that are listed below:
-Lapdock support
-Enhancements to image appearance when pictures are taken in panorama mode
-Forwarded messages are properly identified as being forwarded
-Improved audio quality with car speakers when connected to a car charger and audio
-Introduction of international roaming 3G UMTS hotspot functionality for a single Wi-Fi enabled
As always the update should land shortly but users can feel free to manually check for updates by going to Settings > About Phone > System Updates > Update Motorola Software and pulling it down themselves. In case you missed it check out our full Motorola PHOTON 4G Review, or if you would like to root the PHOTON 4G you can click here. Feel free to drop us a line or comment below if you notice anything special, or a problem with the latest update. Enjoy!
[device id=648]
[via Android Police]