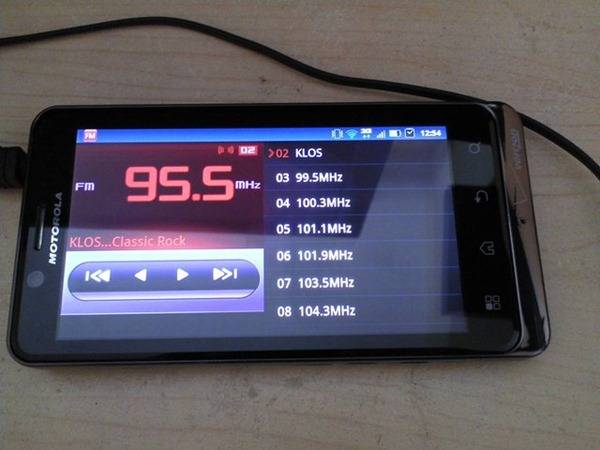 I'm sure there is still plenty of users around these parts that uses the FM radio feature of their Android phone. When the DROID 3 came out and indeed had FM radio support and a fancy app to go with it many users liked it. The Droid Bionic sadly does not share this same app for some odd reason and according to specs the Droid Bionic doesn't have an FM radio. Although using the DROID 3 APK we've quickly learned it does indeed have a FM radio, and it works great.
Shown clearly in the image above is the Droid Bionic enjoying some classic rock on 95.5 FM and just like most phones before it all you need is a wired headset (acting as your antenna) to listen to all the radio your heart desires. It's really simple and what's even better, no root is required for this easy little trick.
Download: Droid 3 FM.apk
As always make sure the "unknown sources" tab is checked in settings>applications then just download and install the APK. Simple as that and you are all set for some FM radio. Just like the usual Android Community fashion we have received the DROID Bionic to use and enjoy and you can see our full review right here. Oh and just for good measure here is the Motorola DROID 3 review too. Download that FM.apk and enjoy some FM radio on your brand new dual-core DROID Bionic.
[device id=1476]
[via Android Police]