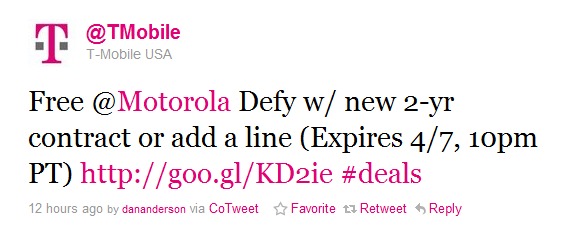 For those of you that seem to always drop your phone, or spill water on it then the Motorola Defy is for you. It is about as rugged and strong as a phone comes. So if you've broke a phone recently, or just need a good deal. The Motorola Defy is FREE on T-Mobile right now with a new 2-Year Contract of course.
Just as I mentioned above, and like most free phones on any carrier, that deal is only available to eligible subscribers and you must also agree to a new 2-year contract. This is nothing new. So head over and get your new Android phone, then come back here to ask any questions you may have.
If you are like me and root your android phones as soon as you get them, feel free to read our Moto Defy Root story. After that you can even search for some Android 2.2 FroYo goodness for it. FroYo adds 720p video recording AND playback to the Defy. That alone might be worth rooting for some. Either way enjoy that durable phone, that is if you can't wait longer and get the G2x that is on its way soon.
[via @Tmobile]