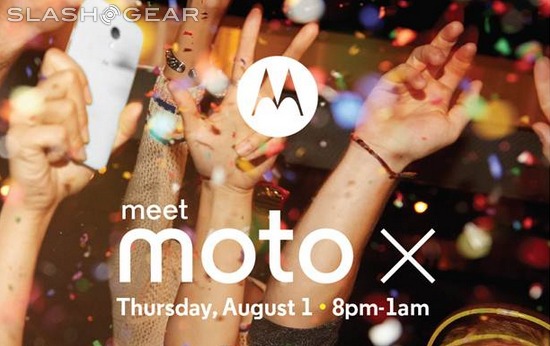 The invite Motorola sent out on July 19 announced that the Moto X would be launched at an event on August 1, but it left out such information as venue and time. Now both of these things have been set, with the company sending out a second invite just a bit ago. In it, we get a look at the white Moto X, which looks like the one Google's Eric Schmidt was seen carrying.
As we'd already known, the event will be taking place in New York on August 1, and per the latest invitation, will kick off at 8PM, running until 1 in the morning. A variety of entertainment will be involved in the event, such as DJ Kaskade, M4SONIC, the comedy collective JASH, Thank You X, and Chef Marc Forgione. It seems Motorola has quite the launch planned.
If you have an astute eye, you'd have already noticed one other element of the invitation: the Moto X cameo. While it is only a back shot of the device, it does look like many of the leaks that have surfaced over the past weeks, lending them further credence and giving us another official look at the handset (the first invitation also had the Moto X, but in a less visible manner).
In case you missed it, a slew of Moto X features leaked yesterday in a dozen or so screenshots, revealing features like Active Display and Active Notifications, Connect Chrome Extension, Assist, and quite a bit more. This is in addition to what we've already seen in other leaks, which you can checkout in the timeline below.
As always, we'll be live at the event when it kicks off next month (there's a tad over one week remaining), so stay tuned and we'll give you all the details, as well as however much hands-on time as we can get with the handset.
SOURCE: SlashGear