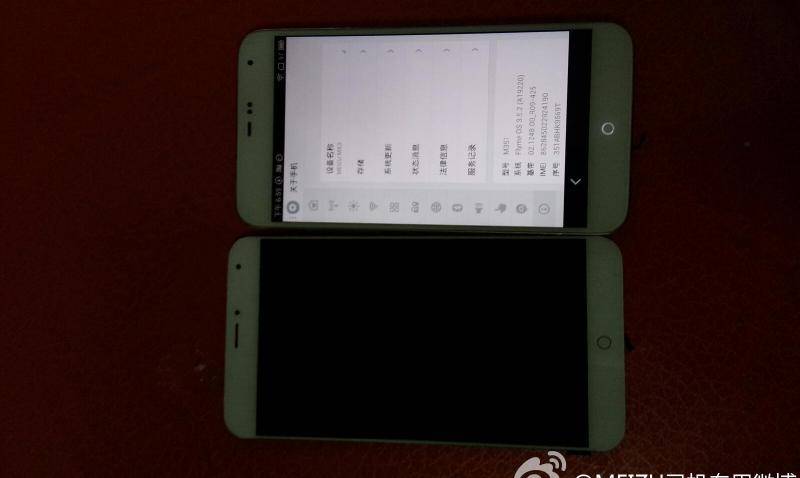 Huawei, Xiaomi, OPPO, and OnePlus have all had their piece, so now its Chinese OEM Meizu's time to take center stage. A batch of leaked photos of its upcoming Meizu MX4 flagship has recently surfaced, showing company's design vision for its next smartphone, which honestly is starting to look like an amalgamation of some very popular and identifiable smartphone designs.
To be fair, the MX4 looks quite similar to the MX3, but the same can be said of both smartphones anyway. The very rounded corners and top speaker grill and cameras hint at a Samsung smartphone, while the paint of white (or black in some cases) paired with a circular home button calls to mind Apple's design. There have been some comments that the Meizu MX4 looks similar to the recently unveiled Xiaomi Mi 4, but that isn't doing it any favors, as the latter has also been criticized for playing up to Apple's design. The MX4 does have impressively thin bezels, but the seemingly raised frame keeps it from looking like an HTC One as well.
In terms of hardware specs, there are two sets floating around, one for a base model and one for a so-called premium variant. One set has a rather strange 1800×1080 resolution display, powered by an MT6595 MediaTek octa-core processor. The high-end version is more ambitious, said to carry a 5.4-inch QHD screen and running on a Samsung Exynos 5433, almost the same specs expected to be seen in the upcoming Galaxy Note 4, except for the screen size. Both models are also believed to sport 3 GB of RAM, a 20.7 megapixel rear camera, and an 8 megapixel shooter on the front.
Those are definitely interesting specs, some of which may sound too good to be true. Meizu is expected to unveil the MX4 next month around IFA 2014, so we'll be waiting to see if these hardware, plus whatever features Meizu might be throwing in, would be enough for the smartphone to rub shoulders with the brands and devices it seems to be trying to identify with.