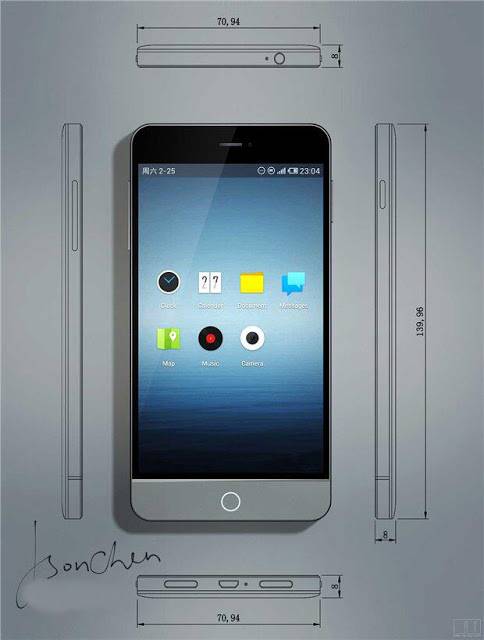 The Meizu MX2 went on sale for those in China last year. That model was a follow-up to the MX1 and keeping with the apparent naming tradition, it looks like details and images of the Meizu MX3 have surfaced. This isn't the first time talk of the MX3 has surfaced, however this is the first time we are seeing clear crisp images of the front and back.
Looking back to one of the earlier Meizu MX3 rumors and there was talk of the handset having an LED illuminated home button. Rumors have suggested this will be on the handset, and also that it will not be on the handset. As you can see from the image sitting above, there is indeed an illuminated home button showing.
This round of images also has the device measurements. In this case the width is 70.94mm, the height is 139.96mm and the thickness is 8mm. Those would translate to 2.79 x 5.51 x 0.31-inches. Other still unconfirmed specs for the MX3 include a 5.1-inch Full HD display and Samsung Exynos 5 Octa processor.
The handset is also expected to have 2GB of RAM along with a 13 megapixel rear-facing camera and internal storage options ranging from 32GB, to 64GB and topping out at 128GB. Finally, the handset is said to be running Flyme 3.0, which is actually a skinned version of Jelly Bean.
All of that having been said, we now have the disappointing news. Despite the good looks and interesting specs for the Meizu MX3 — it is a handset that many will likely never get a change to see or play with in real life. Simply put, like the previous Meizu handsets, this one will likely only see a release in China. Plus we also have the bit about these details being a leak and therefor unconfirmed.
VIA: Tech Kiddy, Twitter @srcleaks