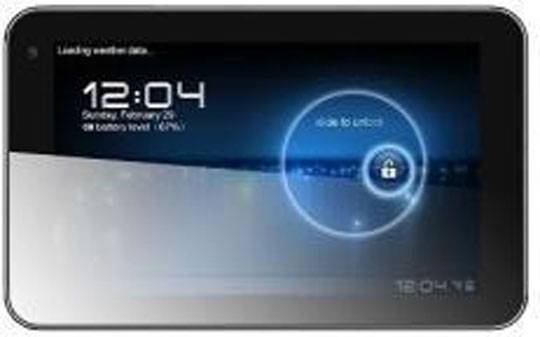 We've seen ZTE next-generation 7-inch tablet before, but only as a rounded rectangle courtesy of the FCC. Now Unwired View spotted the ZTE V66 running through the certification gauntlet at Bluetooth SIG. There isn't much more to report on the Verizon-bound device, except that it's certainly got Bluetooth. But the spcial interest group was kind enough to throw up a thumbnail of the tablet's front press shot, which you can see blown up below. While no dates are mentioned, the presence of a finished photo indicates that the tablet is ready for release soon – though not necessarily on Verizon.
The previous leak indicated that the ZTE V66 (likely a codename that will get changed later) will have a 1.2Ghz dual-core processor and a full gig of RAM, paired to an admirably high-res 1200×800 7-inch screen. Honeycomb will have to do as far as software goes, and the photo from Bluetooth SIG certainly reinforces that. Verizon's 4G LTE connection is packed inside, making the V66 one of only two Verizon LTE 7-inchers we know of – the other being the upcoming Samsung Galaxy Tab 7.7.
There's no word on price or availability but ZTE tends to try and undercut its competitors on the tablet side of things. That being the case, and with the Galaxy Tab 7.7 sure to pack a high MSRP thanks to its Super AMOLED display, I wouldn't be surprised to see the V66 come in around the $300-350 mark. Since the ZTE hardware is also Bluetooth-certified for Europe, it's likely we'll get some hands-on time with it in Barcelona next month at Mobile World Congress.