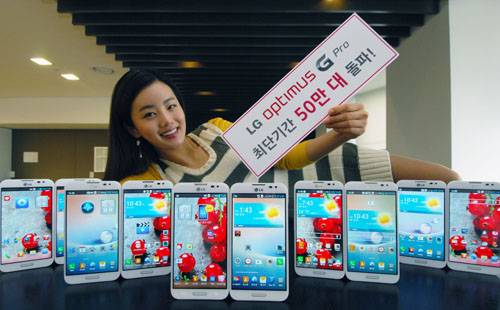 LG originally launched the Optimus G Pro smartphone in Korea on February 21 and as of today, they have announced a new sales milestone. It seems LG has sold more than 500,000 handsets since the launch. Or more specifically, LG has said they have reached that milestone in 40 days time.
While the Optimus G Pro appears to be doing well in their home market of Korea, we have yet to see much in terms of global release details. This latest announcement did offer a mention of "domestic as well as overseas markets," but there was nothing more than that. Simply put, the global release of the Optimus G Pro remains largely a mystery.
One bit that we have seen however was a recent FCC filing. If you remember back to March 22, we had seen an AT&T friendly LG E980 in a filing. That filing didn't specifically mention the Optimus G Pro, however those two names are believed to be the same device. Or at the very least, the LG E980 appears like it may be the an AT&T variant of the Optimus G Pro.
Regardless of the name though, the Optimus G Pro has a decent set of specs and seems like it would be worthy of consideration by someone looking for a larger smartphone. The handset is sporting a 5.5-inch 1080p display, quad-core 1.7GHz Snapdragon 600 processor, 2GB of RAM, 2.1 megapixel front-facing camera, 13 megapixel rear-facing camera and 3140 mAh battery. Finally, we also spent some hands-on time with the Optimus G Pro back at the end of February, you can see that coverage right here.
[via LG Newsroom]
[device id=4434]