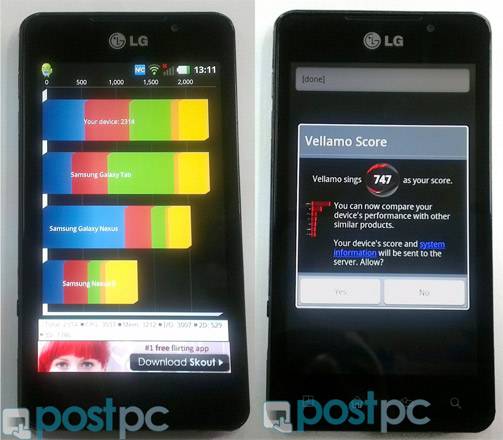 LG's next round of Android phones have been appearing in the hands of testers over the past few days, so things appear to be on track an upcoming release. First the LG 4X quad-core was spotted earlier this week, and now the lesser of the two in the Optimus 3D Max has also leaked with some benchmark results. They are mediocre to say the least, but for those wanting 3D you'll want to check them out.
The Optimus 4X has a quad-core so those results were much higher. With the 3D Max we only get a 1.2 GHz dual-core TI OMAP 4 processor under the hood. It is enough for just about everything you'd need, but isn't the top of the crop either. Whether you like 3D or not, this is about the performance and the image above gives all the details.
With a 4.3″ glasses-free display and a dual-core processor the results are decent considering it's a last-gen dual-core. It won't win any speed races or performance crowns but you can bet it will be priced to sell. If you want to know just how much slower that older dual-core is check out the HTC One S. It has Qualcomm's next-gen dual-core CPU and it more than doubles the 3D Maxx.
Sadly the 3D Max will be old and outdated the minute it is released to the market. They'll have to ride on the 3D features and low price to support it. Latest reports confirm the LG Optimus 3D Max is headed to AT&T but without 4G LTE.
[via Engadget]