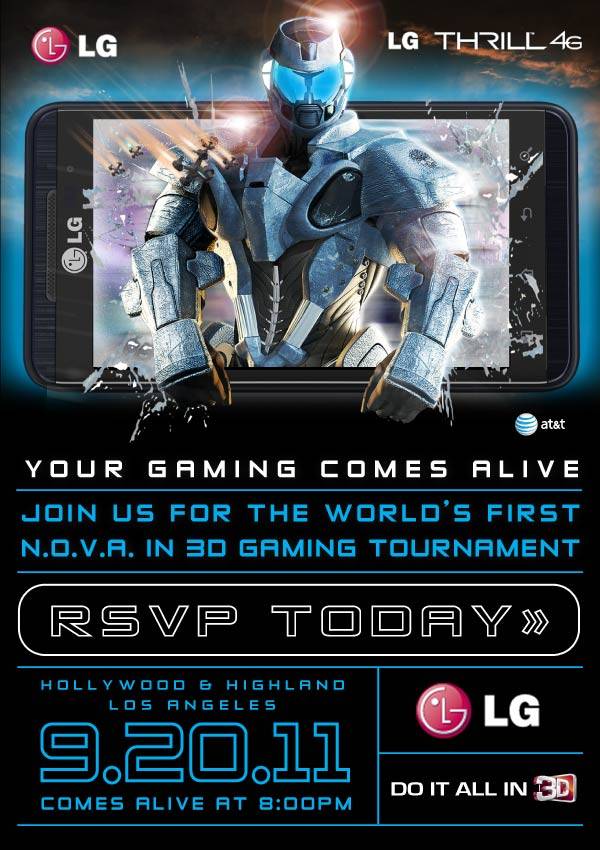 Thanks to LG and their Thrill 4G next week in Los Angeles LG Mobile and Gameloft will be hosting a 3D NOVA gaming tournament for those with the skills to play. To help hype the release of the LG Thrill 4G (see our review) this will all get started on Tuesday, September 20th, and the tournament will be going all day long.
Players can enjoy the full glasses-free 3D effects of the new LG Thrill 4G while playing the highly popular game from Gameloft called NOVA that I'm sure everyone knows plenty about by now. Throughout the day, N.O.V.A. fans will battle it out on site and with online tournaments for a chance to win over $10,000 in LG prizes and possibly even your own LG Thrill 4G smartphone.
This 3D experience and gaming tournament will be held in Los Angeles, CA at the famous Hollywood and Highland Center in the heart of Hollywood. If you think you've got what it takes and can beat my elite skills and headshot precision then come out and give it a try.
[device id=74]