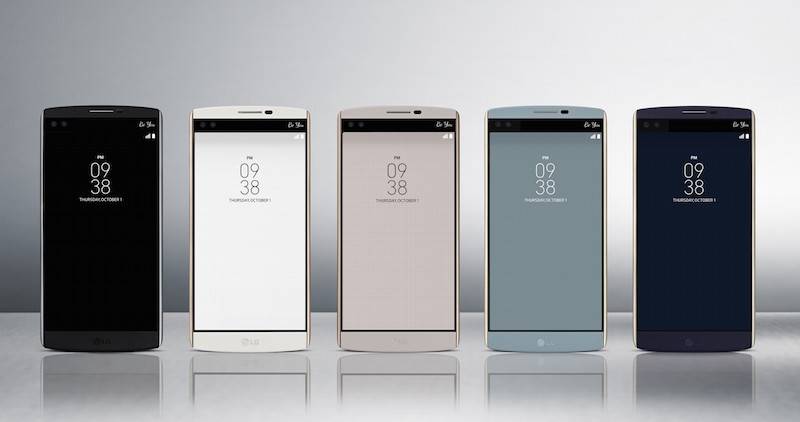 LG has finally unveiled the new smartphone in the form of the V10. So that rumor turned out to be true. It's not a G4 Note or a G4 Pro but this LG V10 which was also accompanied by the 2nd-gen LG Watch Urbane. The LG V10 may really sound something new because it's the first V phone–a new series that mainly targets those people who use their mobile devices for multimedia experiences.
The LG V10 boasts of an impressive array of multimedia capabilities like dual front cameras, manual video mode, and a second screen. It's one classy-looking yet durable premium smartphone that can withstand drops and the test of time, thanks to the silicone skin covering the high-grade stainless steel material of the phone.
LG has added a secondary screen on the V10. Aside from the already vast 5.7-inch QHD IPS Quantum display, there's also another small inset display just above it. The latter has been designed to be always on so user can still view some details without having to open the main display, thus, saving the battery. The second screen can be used to show notifications, messages, or incoming calls. This way, you're not interrupted especially when you're watching a video.
The LG V10 boasts of a long list audio and video recording features. Following the success of the LG G4's camera, the V10 allows mobile photography enthusiasts to capture great images with the 16MP rear camera with OIS 2.0/F1.8 Aperture and the 5MP Dual Front Cameras with two lenses. When it comes to recording, you can make professional-level videos with the Manual Video Mode and other features like Steady Record, Snap Video, 15 Sec. Auto Edit, Quick Video Editor, Quick Share, Audio Monitor, and Wind Noise Filter. You can even choose to shoot in three resolutions (HD, FHD or UHD) and two aspect ratios (16:9 standard or 21:9 cinematic).
The LG's dual front camera comes with two lenses that capture wide angle selfies of 120 degrees and standard 80 degree selfies. If you're a fan of panorama shots, you can take a wide angle photo without having to pan the phone. This eliminates camera shakes that usually distort any image. Phone also features a Multi-view Recording function that uses all V10 cameras to capture different angles of a screen.
The LG V10 will be available in Space Black, Luxe White, Modern Beige, Opal Blue, and Ocean Blue. No word on availability and pricing yet but we'll let you know soon.
LG V10 specifications:
• OS: Android 5.1.1 Lollipop
• Processor: Qualcomm Snapdragon 808 Processor
• Display: 5.7-inch QHD IPS Quantum Display, 2560 x 1440, 513ppi (main) and 2.1-inch IPS Quantum Display, 160 x 1040, 513ppi (secondary)
• Dimension: 159.6 x 79.3 x 8.6 mm, 192g
• Battery: 3,000mAh (removable)
• RAM: 4GB LPDDR3 RAM
• 64GB built-in storage
• 16MP with F1.8 Aperture / OIS 2.0
• 5MP Front Camera with Dual Lens (80o Standard Angle / 120o Wide Angle)
• Connectivity: Wi-Fi 802.11 a, b, g, n, ac / Bluetooth 4.1 / NFC / USB 2.0, 3G, LTE-A Cat. 6
VIA: LG