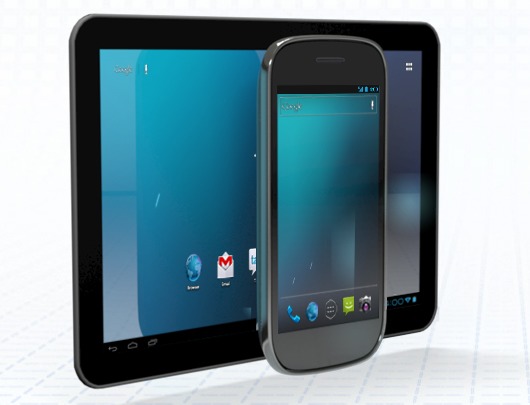 After all the hype this morning regarding the Samsung Galaxy Nexus finally launching with the brand new Android 4.0 Ice Cream Sandwich we are now seeing what appears to be our first actual glimpse of Ice Cream Sandwich on a tablet, even if it's just a render. Thanks to Google we now have our first look of what to expect. The Android Honeycomb buttons have been replaced with the same ICS software buttons seen on the Galaxy Nexus not to mention that pretty cyan color for the notifications. It does look pretty if I don't say so myself.
While just a render I don't think I've seen anything official like this just yet. It appears to be either a Samsung Galaxy Tab 10.1 or maybe a newer thinner Galaxy Tab if you ask me. With Samsung and Google working so closely on the Galaxy Nexus its possible we might see the same thing with a tablet, but with no leaks thus far that is a little doubtful.
Either way I'm extremely excited to see what Google has in store and I'm equally excited to see ICS running on a tablet in the very near future. In case you missed any of our coverage today we've already had plenty of hands-on time with both the Galaxy Nexus and 4.0 Ice Cream Sandwich — just click those links and enjoy.
As an added bonus here is our hands-on videos of the Galaxy Nexus and Ice Cream Sandwich for your viewing pleasure.
[vms 4fb2321e9ce801e2f516 ]