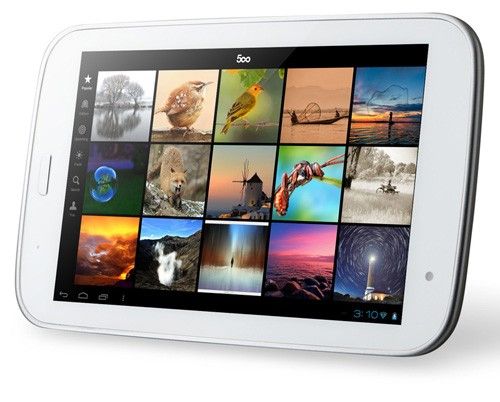 There's been a lot of talk and leaks lately about Samsung's upcoming Galaxy Note 8.0 tablet. While we don't know all the details yet, a rather interesting device from none other than Hyundai has arrived and looks almost identical to the Note 8. Meet the Hyundai T7 tablet complete with a 7-inch HD display, priced lower than the Nexus 7, and the same quad-core processor as the Galaxy S III. Oh and did we mention it looks like a super-sized smartphone.
And you thought Hyundai only made cars. Now we're not sure what to make of this tablet. It looks basically exactly the same as the Galaxy S III only blown up to fit a 7-inch display. That isn't where the similarities end however. The same powerhouse 1.4 GHz quad-core processor as the GSIII is also powering this device. Pair that with Android 4.0 Ice Cream Sandwich and a 7-inch 1280 x 800 IPS HD display for $166 — and we're interested.
At first we would have laughed when seeing this (and still are, look at the camera on back) but now that we've seen Galaxy Note 8.0 leaks looking nearly identical we're not so sure. Are the recent Galaxy Note 8.0 leaks real? There's a pretty good chance they are fake, but we won't know until Samsung announces it themselves. For now lets talk more about this Hyundai tablet.
The 1.4 GHz Samsung Exynos 4412 quad-core processor is paired with 1GB of RAM and Mali 400 graphics, you'll enjoy 8GB of internal storage, a 2 megapixel rear and VGA front set of cameras. There's a micro-SD for adding storage and we have WiFi, Bluetooth, GPS, Sensors, and even HDMI-out for streaming video. All of this comes with a measly 3,000 mAh battery but they promise 4 hours of solid use. We're really not sure what to make of this tablet given it's a complete Galaxy S III ripoff, nor why Samsung would provide their chipset for the device.
Pretty interesting little tablet either way. The only things I'm worried about is Android 4.0 Ice Cream Sandwich and that small battery. This thing can be yours today for just $166 according to online retailers. I'd proceed with caution though.
[via SlashGear]