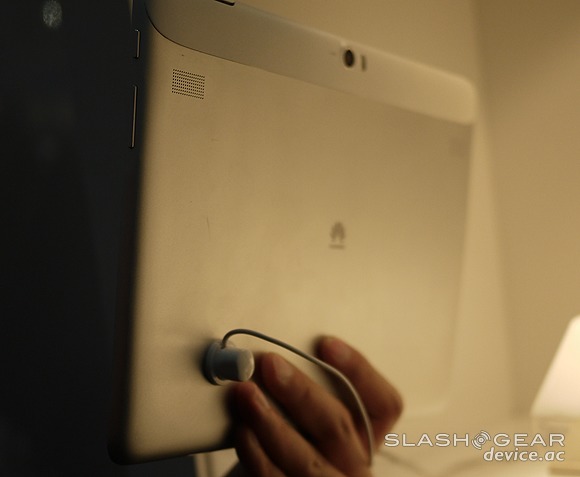 Rumblings of a 10-inch version of Huawei's surprisingly solid MediaPad have been going on for quite some time, but at Mobile World Congress 2012, it's official. The MediaPad 10FHD is only the company's second tablet (not counting derivatives like the T-Mobile Springboard) but already it's looking pretty impressive. The 10.1-inch slate runs Android 4.0 along with Huawei's other new hardware, and it uses their custom-made quad core system architecture. Perhaps most impressively, it's skipped right past the 720p standard and uses a full 1920×1200 10.1-inch LCD screen.
No half-measures here: Huawei will be selling WiFi-only  and 3G/LTE versions of the MediaPad 10FHD. It's also using the metal chassis first seen on the 7-inch MediaPad, with plastic cutouts for wireless communication doubling as grips on either side. Even with a metal shell, the tablet is surprisingly light, making for an impressive combination of fit, finish and ergonomics. Huawei seems to be taking its charge to break into the high-end segment to heart, and the engineering shows. The one downside to the hardware is the "private connector" – Huawei says it's to keep anyone from stealing you data, but all we hear is "for the love of God, don't lose your data cable".
The software appears to be nearly stock Ice Cream Sandwich, with Google apps and the Android Market in tow. A full range of GPS, motion, acceleration and compass sensors is packed in. We don't know when the MediaPad 10FHD will be available or where, but it could take a while – the software on display wasn't quite ready for prime time. For more Huawei hardware (and others, of course) keep it glued to our MWC 2012 portal.