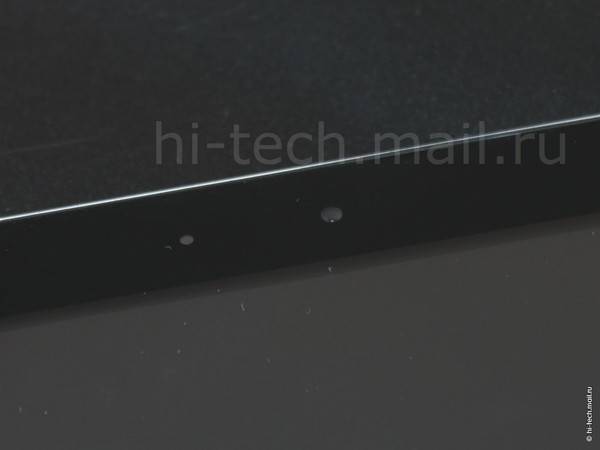 Chinese OEM Huawei has big plans for Mobile World Congress, as we've seen in leaks of renders for their new Ascend D1 Q smartphone. Now the other rumored MWC launch, the 10-inch version of their MediaPad tablet, has seen the light of day as well. In a series of photos from Russian site Hi-Tech Mail, you can see fleeting glances of the 10-inch tablet and its slinky metal frame. There's little concrete information on the hardware itself, but like Huawei's other recent machines it'll be thin and run Ice Cream Sandwich.
Based in what you can see in the photos, the MediaPad 10 (which may not be the final name) combines design elements from the original 7-inch MediaPad with Samsung's Galaxy Tab series. An all-metal back with plastic cutouts (for 3G and/or WiFi reception) recalls some of HTC's former smartphone designs, like the Legend. A pair of stereo speakers are mounted to the rear panel, and a slot on the top looks like it either takes a MicroSD card, a SIM card or both. The standard dual camera configuration is present with an *MP rear shooter, as is what looks like a Samsung-style proprietary data and charge port.
Now, when can you get one? According to the Russian site, this baby will be introduced on February 26th, just a day before Mobile World Congress begins in Barcelona. There's no word (or even speculation) on price and availability. Since Huawei has thus far only partnered with carriers in the US, it'll be a few months at the very least before it comes to the States, and even then it might be saddled with poor software like the T-Mobile Springboard. We wait in hope, Huawei.
[via The Verge]