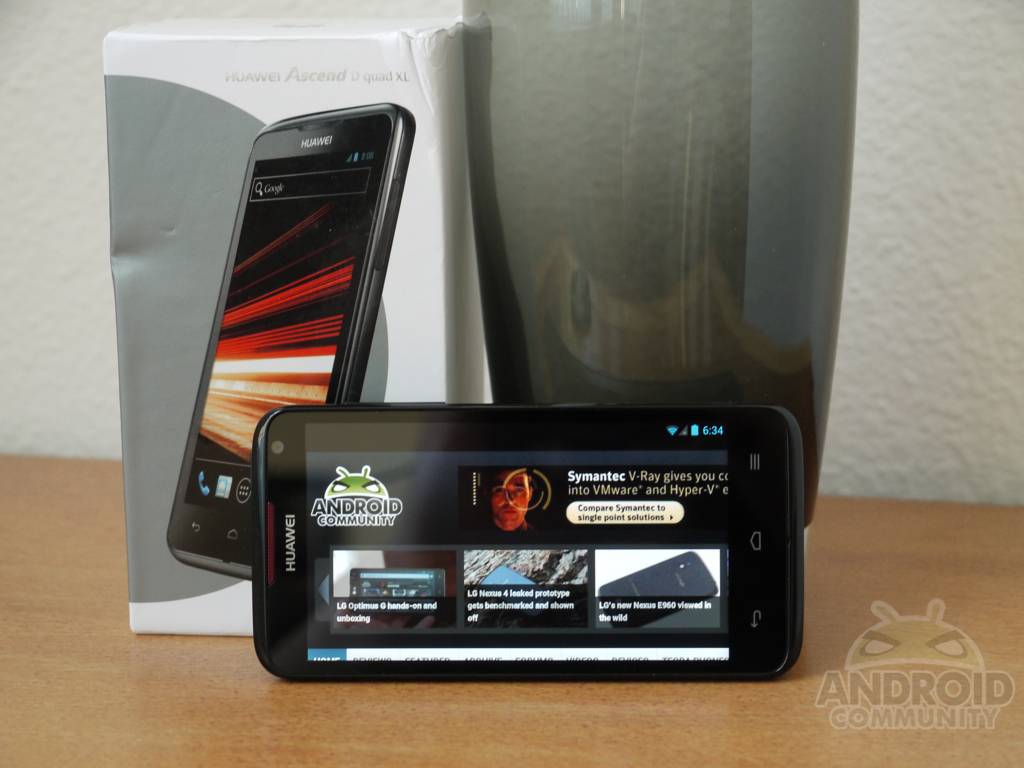 With the release of the Ascend D1 Quad XL, the folks from Huawei are ready to play with the big boys when it comes to Android smartphones. They've tossed in a quad-core processor of their own, a 4.5-inch HD display and more into their new flagship smartphone — but is it enough to compete with the Galaxy S III and other quad-core devices? Read on to find out.
Today we'll be taking a more in-depth look at Huawei's new Ascend D Quad XL smartphone. Late last week we gave it a quick unboxing and you'll want to start off by checking that out. With the Ascend D Huawei looks to compete with Qualcomm, NVIDIA, and Samsung Exynos in the quad-core arena, while also offering an overall exceptional smartphone. Here's what we thought.
Hardware
The Huawei Ascend D Quad XL is by far their best device to date — but that isn't necessarily saying much. Previous devices have often been free or budget-aimed devices with no real substance. That all changes with this smartphone and beyond.
The specs are pretty impressive here with this new smartphone. Huawei's added their own in-house 1.2 GHz quad-core Cortex-A9 processor, 1GB of RAM, and 8GB of internal storage all to a sleek and quality device with a 4.5-inch 1280 x 720p HD IPS+ display. That's 326ppi for those counting at home. They've added micro-SD for extra storage, MHL for the micro-USB port, and a massive 2,600 mAh battery all in a 129 x 64 x 10.9 mm size at just 150 grams. The original Ascend D Quad came with an 1,800 mAh battery — but this new XL is a about a half a mm thicker and packs that huge battery. To get better acquainted here's our hands-on video:
Now you might be thinking to yourself wait, I thought the Ascend D Quad ran a 1.4 GHz quad-core? And you'd be right. This is a sample unit and might not be final hardware, but we indeed are running a 1.2 GHz quad-core here as you can see in the benchmarks below. As far as actual hardware however, this phone both looks and feels excellent. By far one of the best Huawei smartphones I've ever held in my hand. With a few design hints from the HTC Rezound and the DROID Incredible 2 I'm actually liking the overall look and feel — even if this phone is a bit on the heavy side.
As you see above we have a pretty standard phone layout here, in all aspects. Huawei's added the volume up/down rocker to the right edge, with the power button up top along side the 3.5mm headphone jack. The left is equipped with only a micro-USB/MHL port for charging and syncing. Smack dab in the center on back is that 8 megapixel 1080p capable camera with dual-LED flash, a noise cancellation microphone, as well as the Dolby Digital Plus enhanced rear speaker. The front houses the 1.3 MP front facing shooter and 3 capacitive touch buttons for navigation.
As stated above, we are really enjoying hardware here from Huawei. This is a quality device and is very solid all around. The screen is extremely crisp and vibrant, colors and viewing angles are great with the IPS panel, and of course that processor under the hood is keeping Android 4.0 ICS running quite smooth. We could live without the red accents, but overall the hardware from Huawei finally gets a thumbs up here.
Software
Overall the software gave us mixed feelings in terms of overall performance, as well as the tweaks to Android as a whole. We're running a nearly stock Android 4.0.4 Ice Cream Sandwich build here, but Huawei's added a few changes like most manufacturers do. In general the software performs excellent, but once you enable their 3D home options, tweak the swiping animations on the homescreen and launcher, you'll notice the occasional lag. Coming from a lower-end device this won't matter — but here we noticed it. Take that as you will.
As you see above and below, you can simply tap the 3D or 2D home button right from the settings on the homescreen to enable Huawei's own launcher with a 3D effect. Overall this was fun and as nice change up — not to mention you can tweak the icons — but as stated above this added a slight bit of lag to the overall experience. This lag was minimal and hardly something we'd dock serious points for. The menu has been overhauled with colorful icons to give the phone some unique character, but overall Android is mostly unchanged aside from that and the lockscreen.
Pre-intalled apps will vary from location or region, and since this phone isn't in the US and only a demo unit we won't speculate too much here. Out of the box however we do have all of Google's awesome apps, a few backup and security apps, Huawei's File Manager, sound recorder, Security Guard for anti-virus protection, and their weather options. Pretty lightweight — something we'd prefer all manufacturers followed.
As far as controlling that quad-core processor, Huawei has a "Power Saving Mode" where users can set to save mode where you'll use data connectivity once the device sleeps — which means you won't be getting those push notifications for emails, so we'd recommend the Balanced or Performance mode as shown below to enable data 24/7. Performance didn't seem to change too much with these settings, and they mainly control data and sync options once the device is asleep. Here's a few more pictures. Huawei states that Android 4.1 Jelly Bean is coming soon.
Benchmarks
Being powered by Huawei's own quad-core processor here, and not something from NVIDIA, Qualcomm, or Samsung we wanted to give it a quick run. Everyone keeps yelling that the device runs at 1.4 GHz on this quad-core, but I can assure you we have a 1.2 GHz unit — just look at the AnTuTu screenshot under frequency: 208 Mhz to 1200.
Here we had a bit of a toss up. Clearly the device is handling itself in regards to benchmarks quite well — but that was pretty much expected. In the end the Huawei quad-core falls a bit short to the already released (for a few months now) Galaxy S III and its 1.4 GHz quad-core. We beat out the NVIDIA Tegra 3 powered Transformer Prime — but overall things are relatively close. If we were in fact running at 1.4 GHz here the results might be more in favor of Huawei. Their quad-core aspirations were delayed and didn't quite make the July release date, which would have been excellent timing for this smartphone. We have a feeling their round two will be more of a knock out, but we'll have to wait and see.
Camera and Battery
Whatever image processing is being done on this quad-core from Huawei is doing a fine job. We've seen great cameras from HTC with their imagechip, and recently from Samsung, and the Huawei Ascend D1 is no different. The 8 megapixel sensor snaps great photos indoor and out, and the crisp images look great. Their auto-focus actually makes that old school zoom sound — which we weren't a fan of. Below is a gallery of images snapped with that 8 megapixel camera, as well as a quick HD video recording sample. This is by far the best camera experience we've seen from Huawei.
Battery life however wasn't quite as easy to check. Huawei claims this will net the average person about 3 days of regular usage — but we're inclined to say a little less than two days sounds a bit more realistic. We did do a quick video loop of a 720p video clip with screen brightness at 65% at it managed to last about 10 hours with that massive 2,600 mAh battery under the hood. Being a device not available in the US we tossed in a T-Mobile 3G SIM card so our results won't indicate what most users can expect. Either way here's a few screenshots. It's safe to say that big of a battery should last well over a single day. but we still can't fully comment on the efficiency of their new quad-core processor.
Wrap-Up
In the end the Ascend D1 Quad XL is Huawei's finest smartphone to date. On paper and in the hands as far as we're concerned. The device feels great, performs excellent for daily tasks like gaming and browsing, and the display is truly quite impressive being an HD IPS screen with vivid colors and crisp text. Add in a powerful quad-core processor and you have everything we'd like in a modern top-tier smartphone.
While their future in North America is still up in the air given recent events, and the fact that they've yet to hit our market with a flagship device such as this it's hard to say what we can expect from Huawei moving forward. If they can continue to improve on their hardware internals and externals to produce a fine machine such as this, the future looks good for Huawei. For now the Ascend D1 Quad and XL are both available in China and a few other international markets priced around $425. If this was available on AT&T with 4G LTE would you pick it up over the Motorola Atrix HD or some of their other offerings? Hard choice if you ask us!
[device id=2611]