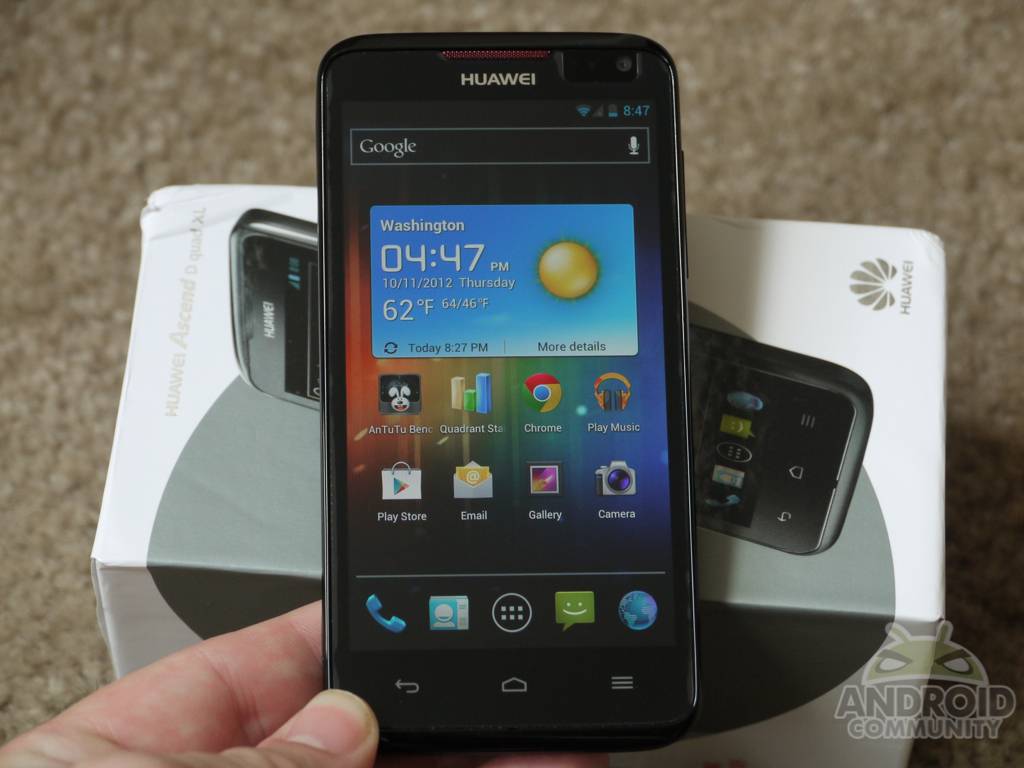 Earlier this year at Mobile World Congress Huawei made a big splash with their new Ascend D Quad smartphone. This being their own in-house quad-core processor that was set to take on the likes of NVIDIA, Qualcomm and more. Today we have the new and improved Ascend D Quad XL smartphone to quickly unbox and give everyone a good idea of what to expect. Have a peek below.
Huawei's quad-core aspirations haven't been going quite as smoothly as they'd hoped, and the device ended up being delayed a little longer than expected. It was originally slated to hit the market back in July, but didn't make it to store shelves until mid September. For one reason or another the device ended up coming to market with a 1.2 GHz quad-core, not the 1.5 GHz we saw topping the benchmark charts. So what we have today is the new and improved Ascend D Quad XL running at 1.2 GHz.
The full specs include a 4.5-inch IPS+ display with a 1280x720p resolution (that's 326ppi) Huawei's 1.2 GHz quad-core Cortex-A9 processor, 1GB of RAM, 8GB of internal storage, and a massive 2600 mAh battery in the XL unit. The regular D Quad only rocks an 1,800 mAh battery. They've added an 8 megapixel rear camera with 1080p HD video capabilities, dual LED flash, and a 1.3 front shooter for video chat. The device is currently running on Android 4.0.4 Ice Cream Sandwich — and is almost completely vanilla other than the lockscreen and a few menu changes. Then you'll notice in our hands-on video below Huawei's usual 3D home. This is an alternative home launcher that will quickly make the entire device have a 3D effect. Which works great, is smooth, and looks pretty. Take a look below.
Overall the hardware is rather impressive. It reminds us quite a bit of the HTC DROID Incredible 2 in terms of overall feel — which is a good thing. Obviously with a much bigger screen, faster processor, and of course Android 4.0 ICS. Huawei's hardware hasn't always been top notch, but they've slowly improved to have an awesome overall design on almost everything they release. It's a fine blend between the heavy materials from HTC, and the plasticy feel of Samsung.
As you saw from the video above, software ran quite swift thanks to ICS and their quad-core processor. Running a few quick benchmarks just to give us some sort of idea on comparisons to current devices. The Huawei quad-core beats out the Transformer Prime and HTC One X rocking Tegra 3, but is actually already behind the just released 1.6 GHz quad-core Samsung Exynos in the Galaxy Note II. Here's a few screenshots.
The screen is extremely vivid and crisp, the IPS technology makes the colors bright and the high resolution makes for an exceptional viewing experience. We'll need a little longer to enjoy this device and see how well the hardware, software, and quad-core processor compares to the competition so stay tuned for a full review!
[device id=2611]