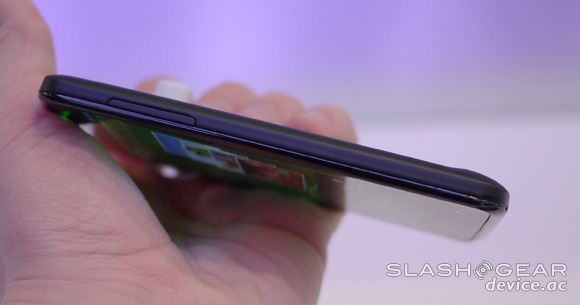 Huawei is pulling out all the stops at Mobile World Congress 2012, and that includes the one marked "restraint". Their new Ascend D Quad smartphone uses their own H3-series quad core process, which makes it (Huawei's words) "the fastest smartphone in the world". The company was eager to show off their flagship at their Barcelona booth, and we were equally eager to check it out. Can the first entrant in Huawei's Diamond line make the cut? Decide for yourself with our hands-on.
From the rather unassuming exterior, you'd never know that the Ascend D Quad holds something extraordinary – until you turn on the screen. The 4.5-inch LCD panel springs to life with something that we've seen all too little of over the last few months, and which Huawei seems uniquely willing to deliver: stock Ice Cream Sandwich. The only concession Huawei made was the inclusion of mare traditional capacitive buttons, which we're willing to forgice – even these conform to Android's standard design.
The K3V2 and 1GB of RAM combine to make a snappy Android experience. We can't tell with the naked eye if it's "49% faster", but it certainly beats the Galaxy Nexus and its more pedestrian TI OMAP 4 performing the same duties. The phone borrows some design cues from the Galaxy S II: a thin 8.9mm body tapers up at the bottom. Users can get good audio and video via a combination of Dolby 5.1 Surround Sound and HDMI when using the MHL adapter port.
Is the Ascend D Quad a showstopper? We'll have to do some extensive testing to find out, but it certainly looks promising. And if Huawei's promise of 2-3 day battery life on the more capacious Ascend D Quad XL is true, we'll be anxious to see how it stacks up to the DROID RAZR MAXX – which has proven itself already. Huawei didn't say when the Ascend D Quad would be arriving, but when it does, it'll have an LTE radio in tow. Check our MWC 2012 portal for all the new hardware at the show.