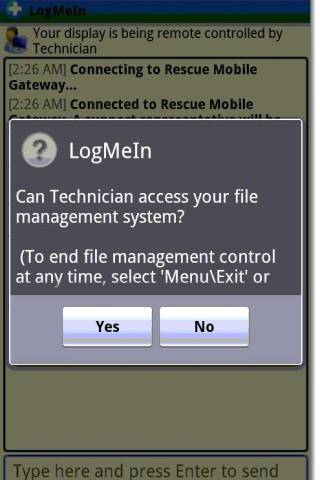 Beats and MOG aren't the only things that HTC will be including with all its new phones starting with the One series. The Taiwanese manufacturer has partnered with popular remote access software maker LogMeIn to bring a remote support app to Android phones. LogMeIn Rescue (a free download in the Google Play Store) is designed to allow HTC's technical support team to connect to and control a smartphone across a wireless network, in pretty much the exact same way that the LogMeIn software for desktops works.
The service will be included on all future HTC phones, provided that the mobile carrier consents to its inclusion. The reasoning is obvious: having a remote tech take a close look at the phone's software can clear up a lot of problems that less technical users might have, such as "where has my Android Market gone?" and "I installed something called Go Launcher and now all my apps have disappeared!" This could save both HTC and its customers untold time and money by avoiding the tedious process of physically sending the phone in for repair.
Any software that creates a remote connection has security issues, and if all of HTC's upcoming phones connect to a central hub, there's certainly cause for concern in that regard. HTC assureds its customers that a remote connection can only be initiated with the consent of the user, again, much like the LogMeIn web service on desktop PCs. The new app should be included on the HTC One X, One S and One V phones (where carriers agree to the terms) and all HTC Android phones going forward.