Earlier this November, we told you about the storage manager app Files Go that is available in test mode. It soon went out on Beta for more Android users and we managed to use it for some time. As described, Files Go Beta helps clean up space on a device. Any app manager helps keep the phone organized and Files Go is no different but better.
Files Go is an official app developed by Google. It's still in beta so bugs are expected, as well as, improvements. The app is light in space—only at 3.69 MB. The app is secure and responds quickly so it's easier to share those files and documents even offline.
The app allows faster searching for an important document, photo, or video that you need. Those duplicate images are recognized by Files Go so you can delete the extra copy or remove spam. Simply put, this app helps your phone stay speedy and snappy because you can easily delete those other apps you don't often use.
The Files Go Beta app frees up space on your smartphone. The app is not yet released officially but it can be downloaded now. It's Verified by Play Protect. The Play Store warns the app is still in development so it may be unstable.
Once Files Go is downloaded and launched, you will be asked if you will allow the program to access photos, media, and files on the device, choose Deny or Allow. In this case, choose 'Allow' so the app can function properly. Of course, you have to allow the app. You will then be shown the terms you need to agree with.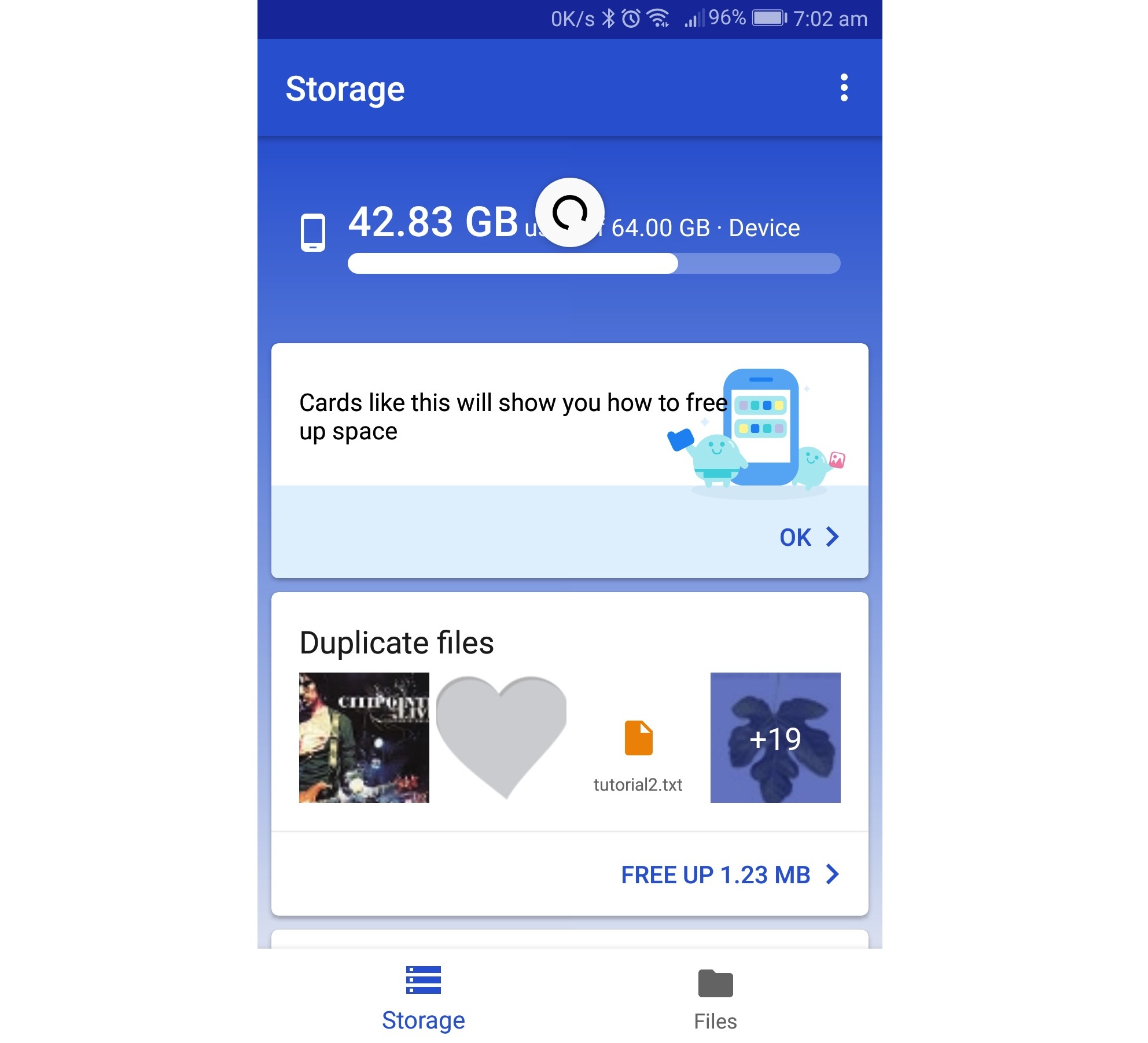 Inside, you will see information on your storage. The device we're using has 64GB onboard storage and we can see 42.83GB is already used. There's an area below that suggest cards will show up to tell you how to free up space. You can choose 'Ok' if you're more interested.
Duplicate files are shown just below. You may click on those files or images to delete them. Click on the 'Free up X MB' to see more options.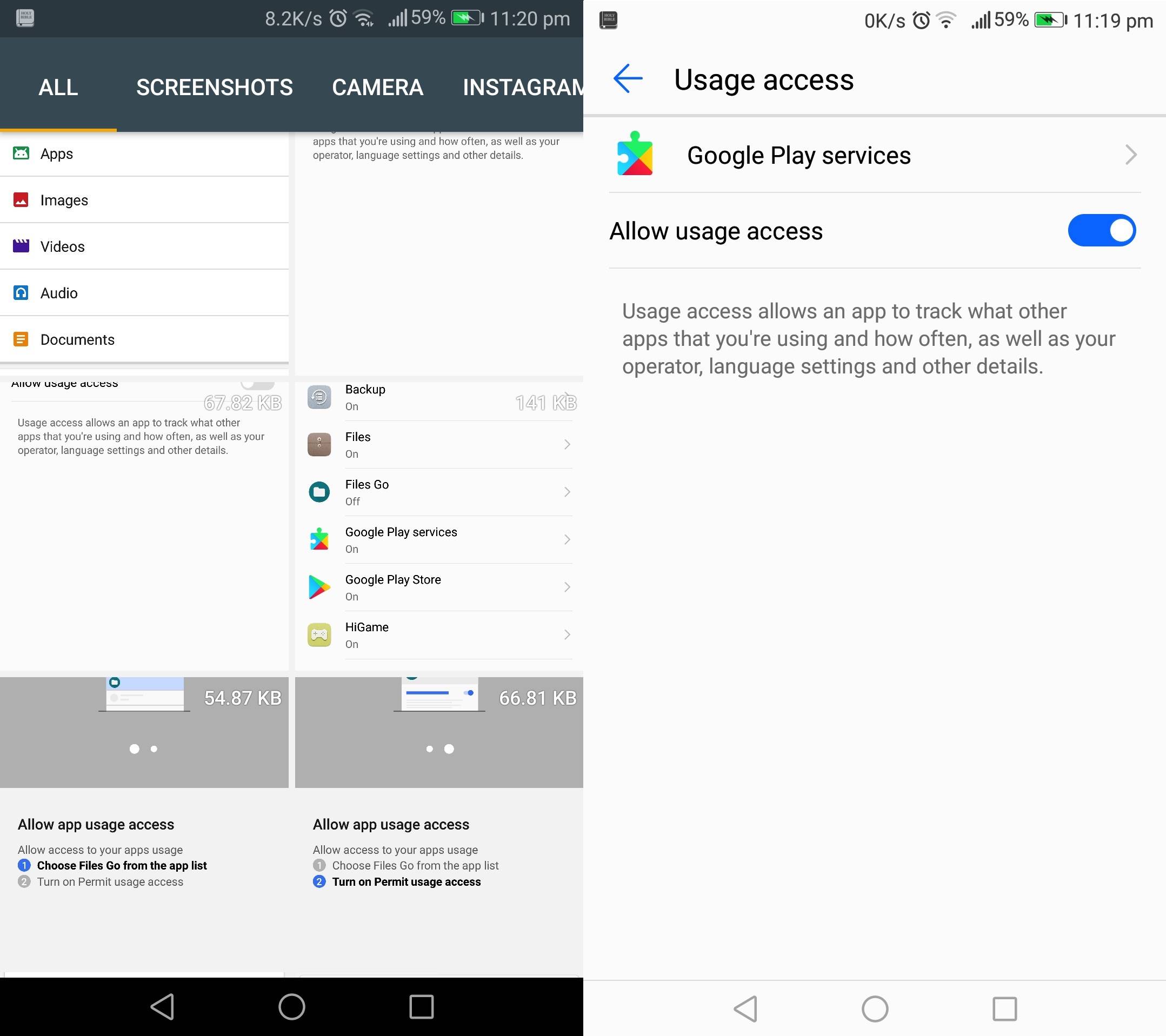 If you want to see your files in detail, select 'Files' with a folder icon at the bottom of the screen. It will take you to another page where all your files are listed including the Apps, Images, Videos, Audio, and Documents.
There are tabs on top of the screen that shows ALL, Screenshots, Camera, and other photo galleries or related apps available. The home screen also shows you where you can 'Allow usage access'. You need to choose Files Go from the app list to allow access and then turn on Permit usage access.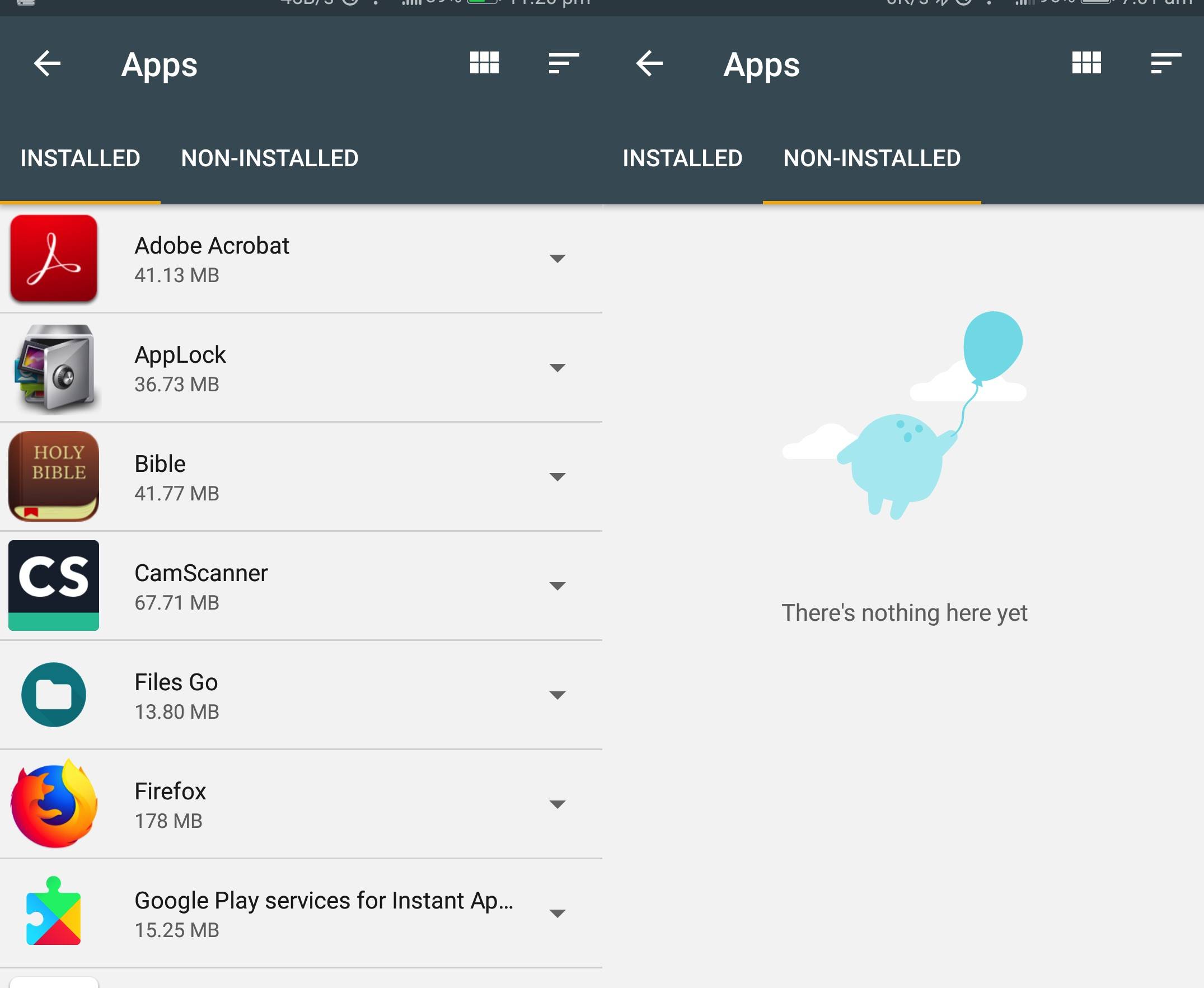 Clicking on Apps will present all the apps installed and non-installed. The apps are listed with their respective file size. It's not sorted from biggest to smallest—just alphabetical. The non-installed area shows nothing but a blue blob carrying a balloon. Obviously, nothing is there yet.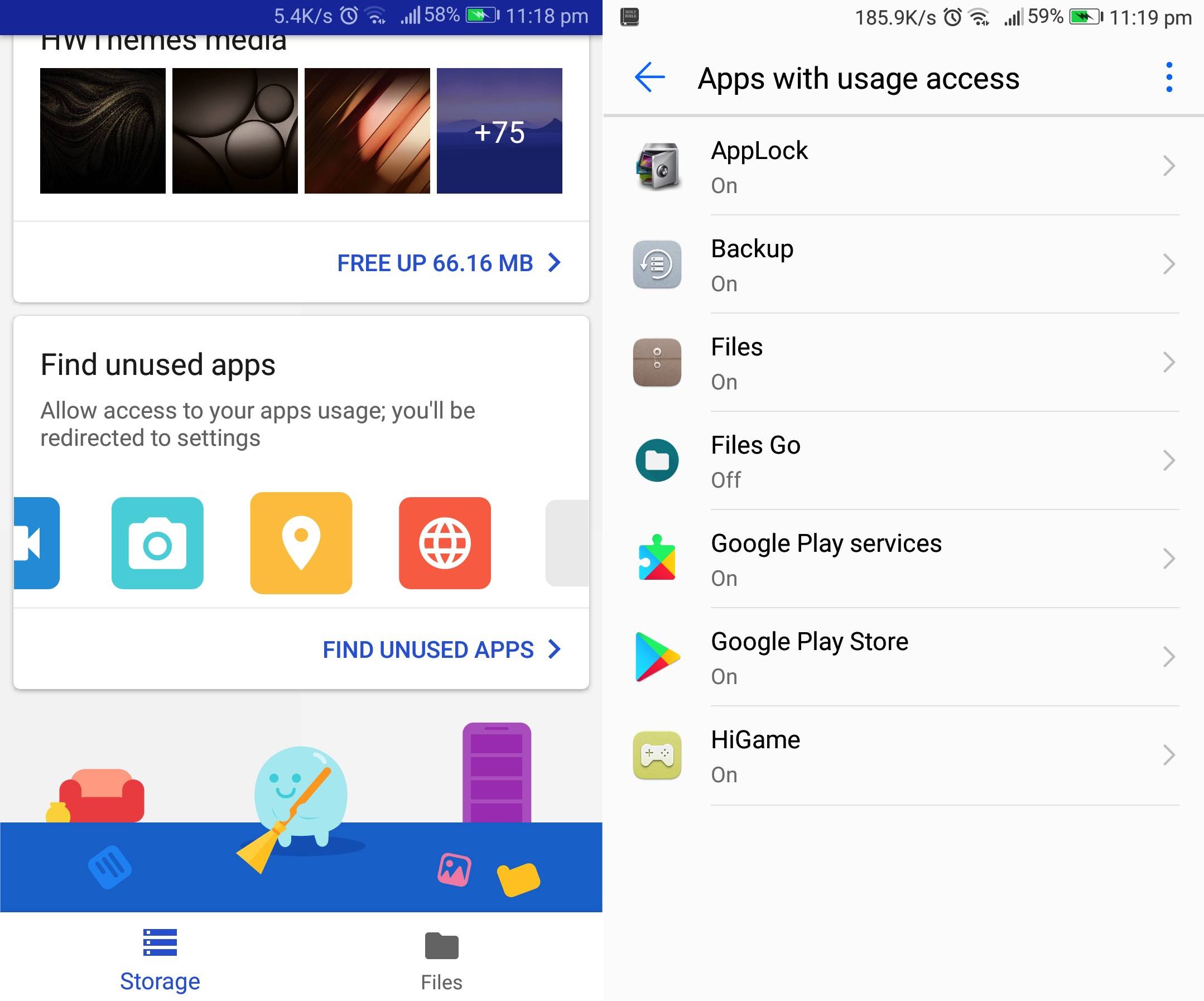 You can find unused apps inside. When you allow access to your apps usage, you will be redirected to settings. Apps with usage access are then shown in a separate window. In this case, you will see which app has allowed access.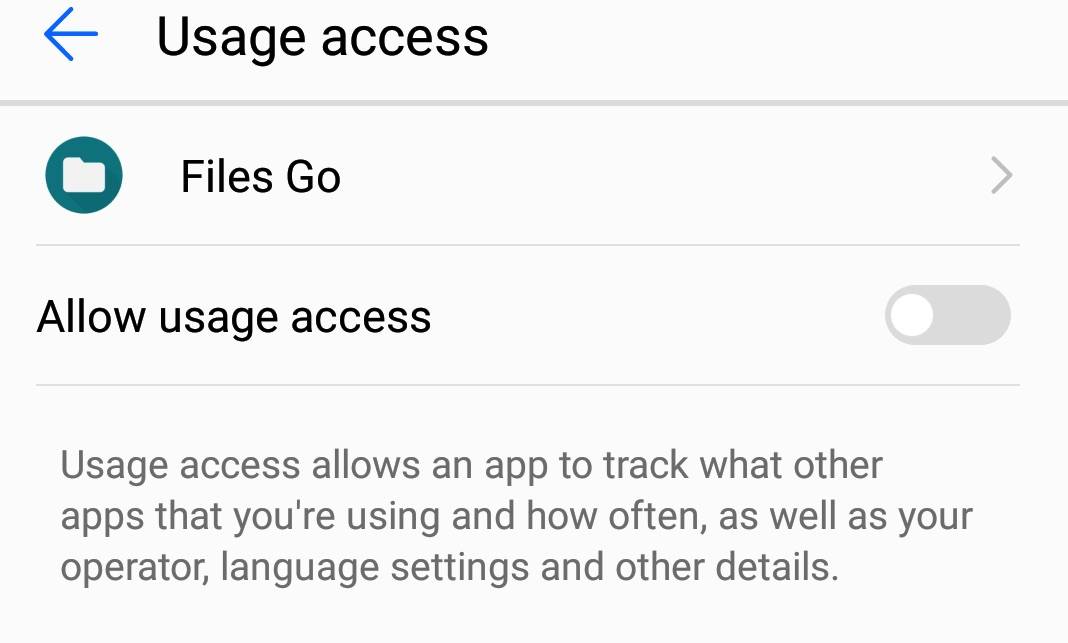 Files Go was turned off for the first time so we need to turn it on. Click on the toggle switch.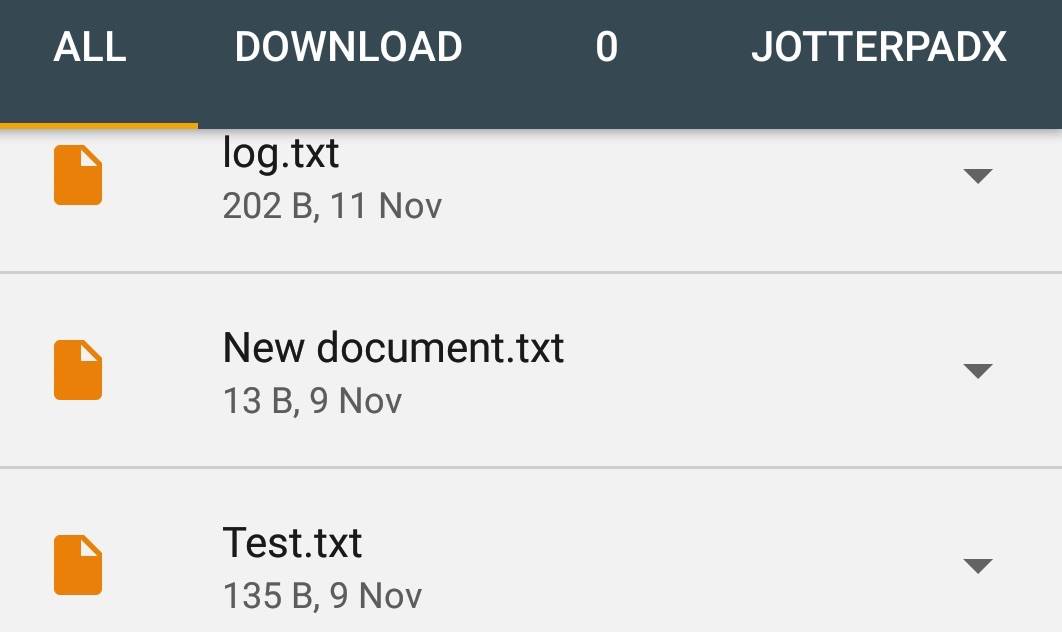 Moving on to Files, you can see all kinds of files available on your devices. You can use this if you want to locate a file that you've just downloaded but don't know where it is stored exactly. We like the fact that you can see the file size plus the date when it was created. You can view everything inside including Downloads, Received Files, Apps, Images, Videos, Audio, and Documents.
With the Files Go app, you also have the option to "transfer securely without Internet" to nearby friends as long as they also have the Files Go app and Bluetooth connectivity is enabled.
Overall, the app is very easy to use and informative. Navigation is smooth and intuitive even for first time users. What we like most about the file manager is the fact that you can share files even without Internet connection. Knowing the app is from Google, we can trust that it's secure, reliable, and efficient for Android users who are always on-the-go.
Download Files Go Beta from the Google Play Store