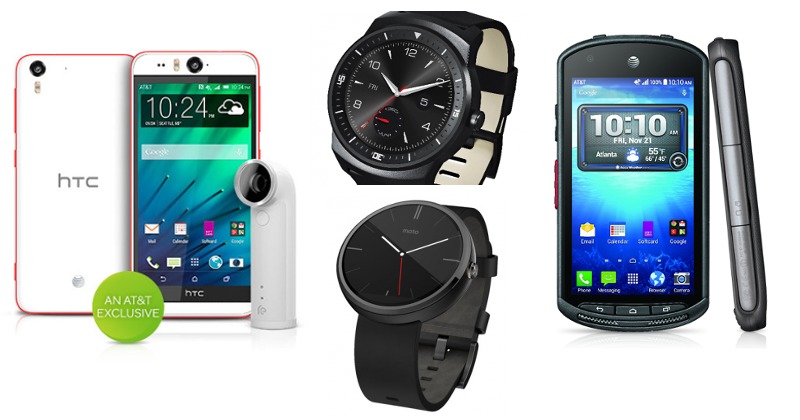 It isn't Black Friday yet but it might as well be, at least for AT&T's subscribers. The carrier announced this week a number of devices, both Android and Android-friendly ones, that will all land on November 7. So if you're in the market for a smartphone or a smartwatch, whether for yourself or for your kid, then better get your cash or credit cards ready, because this one will be a doozy.
This is HTC's premium-not-so-premium camera phone, boasting of decent specs encased in plastic. That includes a quad-core Qualcomm Snapadrgon 801 and a 5.2-inch Full HD screen. Of course the real star of the show, and the reason for the EYE moniker, is its front-facing camera, which boasts of 13 megapixel sensor and its own LED flash for that perfect selfie. Plus it includes HTC's new suite of EYE photography software to complement that feature. The HTC Desire EYE will sell full price at $549.99 or $149.99 on-contract. If you decide to buy an HTC RE camera along with it, you get a $50 discount on HTC's action camera oddity.
Although online pre-orders actually started Wednesday, the round-faced LG G Watch R only becomes available on AT&T's retail stores come Friday. This smartwatch is one of two in the Android Wear world that bears a circular face, thanks to the world's first P-OLED display, according to LG. Heart rate sensor, IP67 waterproof grade, swappable straps, and a larger 410 mAh battery make up the highlights of this smart timepiece. Sadly, no discount or deals to be made here so you pay the full $299 price. The G Watch R is also now available from Google Play Store for those outside of AT&T's network.
Motorola's own round smartwatch is also finally landing through AT&T. The Moto 360 was actually the first circular smartwatch to the scene but the G Watch R has since then shared the spotlight. Despite the not so full use of the circular display, the Moto 360 one ups the competition with a sleeker and smaller design and wireless charging. The smartwatch costs $249 but, for a limited time, you can get it for only $199 if you're willing to bundle it with a new Moto X, which itself costs $526.99 in full or $99.99 with a two-year contract.
This is Kyocera's latest entry into the rugged smartphone category but it is also AT&T's first every Kyocera offering. If you look at the DuraForce spec-wise, you might be a bit disappointed with its Qualcomm Snapdragon 400 processor, 4.5-inch 720p screen and 16 GB of storage, but then you might be missing the point of the device. The IP68 waterproof grade, MIL STD 810G spec, impact-resistant and high-sensitivity touchscreen, and 3,100 mAh battery are pretty much the selling features of the smartphones. Throw in enhanced push-to-talk functionality, over WiFi or AT&T's LTE network, and you've got a solid industrial smartphone. The Kyocera DuraForce sells for $389.99 or $49.99 with a standard contract. Business customers, however, can get it for $24.99 under certain conditions and obligations.
Even kids these days have smartwatches, but of course they cunningly serve as trackers as well. The FiLIP 2 is the next gen kid tracker, now bearing a more kid-friendly design and an expandable strap to account for the fact that kids to grow. Two-way voice calls, limited of course to a few authorized numbers, one-way messaging, and SafeZones alarms make up the key feature set for this colorful wearable for kids. The FiLIP 2 sells for a $99.99 time-limited promotional price. AT&T subscribers can also opt to add it to their Mobile Share Value or buy it standalone for $10 per month.
Even traditional watch makers are getting into the smartwatch game. TIMEX is offering its latest IRONMAN ONE wearable exclusively through AT&T but with a slight twist. This smartwatch carries its own wireless connectivity, for data only, and doesn't make use of traditional LCD screens. That standalone data makes the IRONMAN ONE GPS+ useful for emails and messages but useless for voice calls. The built-in GPS also lets you leave the smartphone safely at home while you go jogging, without worrying about gaps in your activity tracker. The watch also uses Qualcomm's own Mirasol display technology, which is akin to e-ink in terms of power efficiency, sunlight visibility, and always-on readiness. AT&T subscribers can walk into retail stores to pre-order theirs for $399.99 but online pre-orders won't start until November 10. No word yet on shipping date for this one.
Six devices in one day! Seven if you include the HTC RE camera, eight when you thrown in the new Moto X. Any of these tickle your fancy or are you rooting for something else? Of course, presuming you're an AT&T customer. That said, with the holidays fast approaching, you can be sure that more like this will be coming our way, so better hold on to your seats.