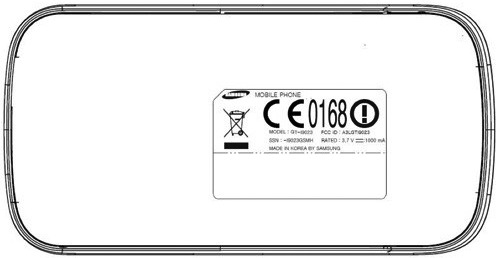 Last night we gave you a bit of a news bit that had to do with both an FCC filing and a video that showed a German fellow holding a phone that appeared to be a Nexus S device running Android 2.4 (this video and FCC filing are in the gallery below, or you can take a [click back] to that post if you'd like as well.) Now what we see today, courtesy of MobiFlip, is a closeup picture of a screen of a German language based phone that again says its Nexus S phone and is running Android 2.4 (Ice Cream Sandwich.)
Lets compare the specs we know on this phone, the one in the video filmed by German group BestBoyZ, and the one in the FCC filing from last night:
FCC Version:
Model Number GT-i9023
Band: AWS 3G
Video Version (aka BestBoyZ version):
Model Number Nexus S
Kernel-Version 2.6.35.7-gfed90c5 android-build@apa28 #1
Baseband Version I9023XXJL2
Build Number soju-userdebug 2.4 GHR84 86467 test-keys
Android Version: 2.4
MobiFlip Version:
Baseband Version I9023XXJK2
Android Version 2.4
And just for fun, the current Nexus S has a model number GT-i9020.
SO what does all that crap mean? Take a look at what's similar: there's a supposed Android version 2.4 (Ice Cream Sandwich) on two of the 3, and the number set i9023 is the same on all three. Sadly we cannot see the kernel version on the MobiFlip version or we'd know if it was one of those userdebug mode phones that BestBoyZ have. If you weren't here for the last post, that means the phone is a pre-release version meant exclusively for testing. A phone under that condition sometimes moves slower than a full release version of the phone and is meant to check and fix all the little pieces. Finally, the baseband version is similar on the BestBoyZ and the MobiFlip versions, but they aren't exactly the same. This seems to point toward the idea that they aren't the same phone, or at least that two different people in the world have this new phone and OS.
So what's going on here? Something odd is going on. First of all, why would two of these new Nexus S phones be showing up all the way over on that side of the world before they popped up in the USA? Could they be allowed a quicker release there and are therefor tested there while we here in the USA have to wait for FCC filings to go that extra step?
Next, why are the baseband versions on the two German phones so similar, but not the same? And while we're here, do you think this MobiFlip version has that same kernel version, if you had to guess?
Finally, do you believe this Android 2.4 is a real upgraded system, or do you think it's a "glitch" like what happened / is happening with the XPERIA Arc?
We said it in the last post on this subject and I'll say it again – I doubt they've got 2.4 close enough to release to be testing it already, especially since both 2.3 Gingerbread and 3.0 Honeycomb were JUST announced. This sort of thing can be mocked up easily, but then again, what's the motivation for doing such a thing? I believe it's possible that both of these German phones are testers, and that the FCC filing is the exact same phone. Will Android 2.4 be released by Mobile World Congress? No. Will this Nexus S be ready for Mobile World Congress? Yes.
Feel free to flop your opinion or any facts you've got below.
[Via MobiFlip (for MobiFlip images)]