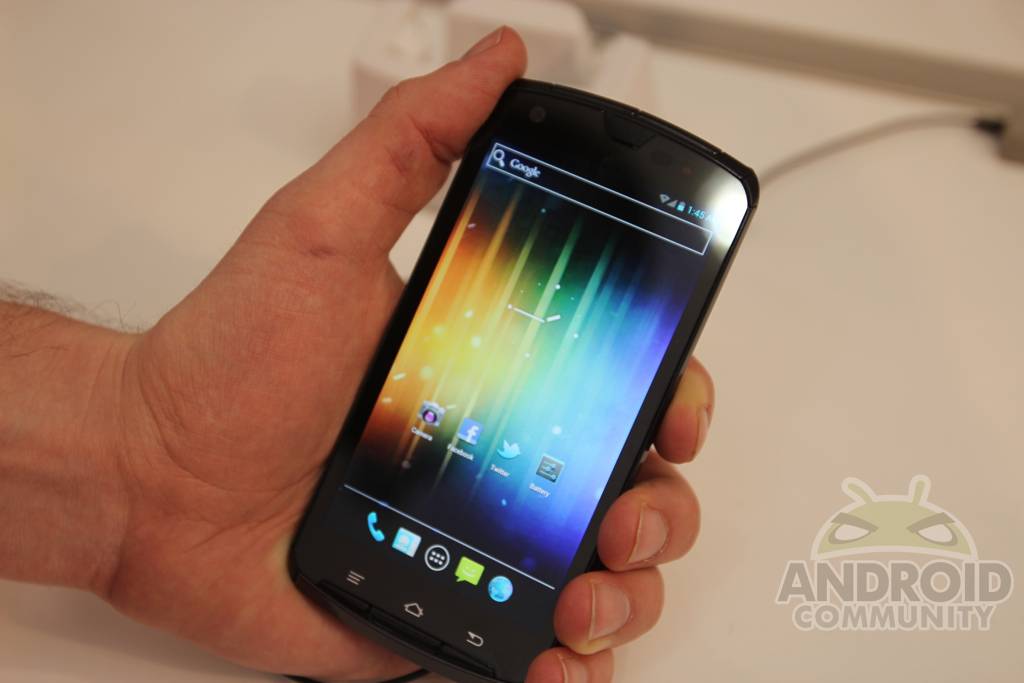 Quad-core is the name of the game at Mobile World Congress 2012, and the standard is Nvidia's new 4-Plus-1 Tegra 3 system on a chip. While the device itself isn't quite ready for prime time yet, Fujitsu is showing off a new Tegra 3 Ice Cream Sandwich phone with some tricks up it sleeve, namely an incredible 13.1 megapixel camera and a waterproof design. Officially designated "quad-core prototype" for the time being, expect to see something similar coming from Fujitsu sometime this year – though probably not outside of Asia, at least at first.
Looking at the Fujitsu phone, you'd be forgiven for thinking that somebody accidentally made a Galaxy Nexus with capacitive buttons. The 4.6-inch screen is impressive in person, though company representatives weren't ready to talk about panel types or resolution. Both the hardware and software feel a little unfinished, with creaking seams and slowdown on basic Android tasks – we're inclined to be generous here, since Fujitsu says it's aiming for a late 2012 release. Software appears to be bone-stock Android 4.0, but expect that to change.
The innovations in Fujitsu's concept are hard to ignore. Cramming 13.1 megapixels into a cameraphone sensor is impressive (though not as impressive as it was a few days ago) and the waterproof, dustproof chassis isn't significantly bigger or thicker than comparable phones. Atrix fans, take notice: the proximity sensor on the Fujitsu phone doubles as a fingerprint reader for biometric security. It automatically turns the phone off when you set it on a table, which might be a good or bad thing – we haven't decided yet.
[vms 9b8153e0047536c9f541]
It'll be many moons before this device hits the market, and we've no idea what it'll be called – though based on a label we saw under the table and a little intuitive guessing on Fujitsu's current lineup, "ARROWS F12 Arc" would make a lot of sense. Keep in mind that the prototype is likely to do a lot of changing, both hardware and software, before it sees a retail release. Be sure to keep an eye on the MWC 2012 portal for more far-flung looks at upcoming devices.