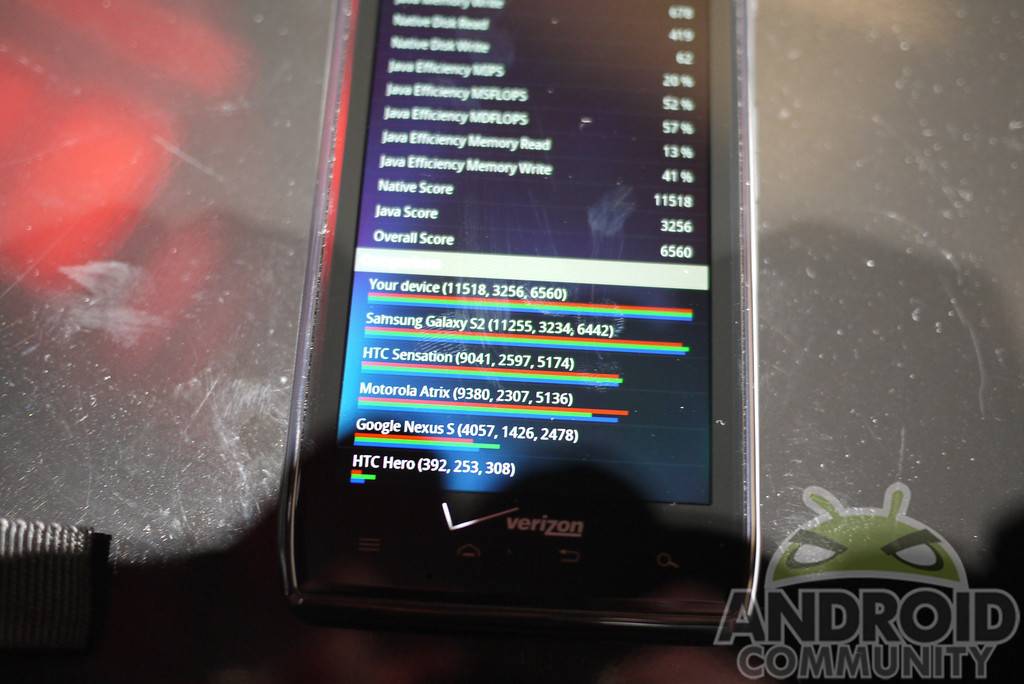 Motorola has finally unveiled the new DROID RAZR and we were live in NYC to get some actual hands-on pictures and videos. Not only that, but we also snapped a few photo comparisons to the Samsung Galaxy S II and even benchmarked the brand new DROID RAZR. For all the pictures and details head on down to see just how thin the RAZR really is, and how it fared in a few benchmark tests.
First things first is the Quadrant results, we saw a score of 2667 on the DROID RAZR. Obviously this was an initial test and this might not be final software and the chance of things running in the background are all possible. We have a 1.2 GHz dual-core processor and while the score was decent, I expected a little higher. Do take note that this is a qHD 960 x 540 resolution display and not 800 x 480 like many others. The Amaze 4G scored 2800 in Quadrant but its running at 1.5 GHz. The Galaxy S II scores well over 3500 here — just for a small comparison.
Next, check out the size of the RAZR next to the 4.3″ Samsung Galaxy S II. The AT&T SGSII was the thinnest smartphone on the planet, but that title now belongs to the RAZR coming in at just 7.1mm thin — not counting the hump. The Galaxy S II is 8.2mm so not a big difference, but thinner is thinner.
When laying neck and neck it's actually quite hard to tell a difference since its barely 1mm, but you can clearly see just how amazingly thin the RAZR is. Now I'm a little confused why the recently released BIONIC is such a fatty. What happened Motorola?
We also took a few pictures of the displays next to each other since they both are rocking AMOLED displays. The Samsung Galaxy S II is 4.3″ and rocks a 800 x 480 resolution while the RAZR sits at 960 x 540. We didn't have a lot of opportunity here for photos but see for yourself and tell us what you think.
The Samsung Galaxy S II is an awesome phone and no one would argue that. Does Motorola have what it takes to knock them off the top spot, or will the Samsung Galaxy Nexus being announced tonight put the RAZR and even the SGSII to shame? We shall see shortly. Below are a few more awesome photos of that sleek Kevlar coated back of the DROID RAZR, and the CF Bench test results too. Enjoy!
[device id=1739]
[device id=56]