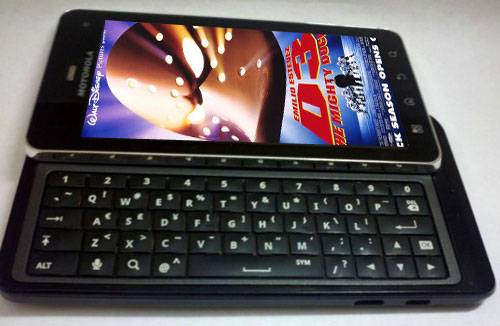 While it still hasn't been officially announced, the Droid 3 for Verizon continues to leak like pot full of holes. The leak of the day is several very official looking Verizon "how-to" videos, discovered by the German blog PhonePads. While not revealing much, the videos give a very good look at the phone, and shows off many of the hardware features we've seen in leaked images.
The Droid 3 is rumored to land on Verizon (as the videos clearly show) in coming months. Powered by a dual-core processor, and sporting a 4″ qHD screen, it promises to be a worthy successor in the line of the original Droid. Unfortunately the videos didn't clear up questions as to which particular processor will be inside the Droid 3. There were a few new nuggets of info for those of you waiting for a qwerty dual core beast on Verizon.
First, the video clearly shows that the Droid 3 is running the same Gingerbread version of Motoblur included in the recent Droid X Gingerbread update. This latest version of Motorola's skin brings a slightly more tolerable re-skin of the launcher as well as an app drawer with all sorts of handy new features. We've also got some new info on the hardware. First we confirm that the Droid 3 will have an HDMI out port, located next to the USB port similar to the Atrix 4G, potentially indicating future use with a webtop accessory. The videos also reveal that the camera will be 8MP and capable of shooting in 1080p.
Take a look at the videos for yourself below for a glance at the upcoming Droid.
[youtube]http://www.youtube.com/watch?v=qtXZXhTpywY&feature=player_embedded[/youtube]
[youtube]http://www.youtube.com/watch?v=oLOprtLX9tc&feature=player_embedded[/youtube]
[youtube]http://www.youtube.com/watch?v=olOxHEU-2CU&feature=player_embedded[/youtube]
[via PhonePads]